Jeeves and Wooster at The Duke of York's theatre
by Oliver Mitford on Wednesday 26 June 2013, 11:17 am in Upcoming and New Shows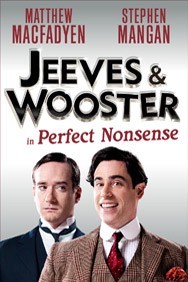 Stephen Mangan and Matthew Macfayden star in the long-awaited stage version of P.G. Wodehouse's Jeeves and Wooster!
Almost 100 years on from their first appearance in print, P.G. Wodehouse's comic creations are being resurrected on stage at The Duke of York's theatre from 30 October 2013. Stephen Mangan will play dim but amiable aristocrat Bertie Wooster with Matthew Macfadyen as his dutiful valet Jeeves. Adapted from the Wodehouse novel The Code of the Woosters by brothers Robert and David Goodale, the production is titled Jeeves & Wooster: Perfect Nonsense and has even been given the full blessing from P.G Wodehouse's estate.
The person set to bring Jeeves & Wooster: Perfect Nonsense to life on the stage is veteran West End comedy director Sean Foley, whose five-time Olivier nominated production of The Ladykillers is about to return to the Vaudeville theatre in July. His current riotously funny production of A Mad Word, My Masters for the RSC is, at present, playing in Stratford to massive acclaim. As if this wasn't enough, Foley's next project, after Perfect Nonsense, is Harry Hill's X Factor musical I Can't Sing!, due to arrive in the West End in 2014. When asked about Jeeves & Wooster in an interview with the BBC, Foley said: "The brilliant thing about the Goodale brothers' adaptation is that there's not really a single line that doesn't come from the book or Wodehouse himself." He also let slip that the production would exploit its live theatre setting and added, "It's not an old and dusty rendition".
The characters of Jeeves and Wooster were memorably portrayed by Stephen Fry and Hugh Laurie in the 1990's television adaptation by Clive Exton. (Exton's brand-new play Barking In Essex, staring Lee Evens, opens at Wyndham's theatre in September). When asked whether he was daunted by Fry and Laurie's legendary roles, Stephen Mangan said: "They were perfect casting and the TV show was brilliant, but TV and theatre are different things. You get a different Hamlet every seven months on the London stage, so I think we can cope with two Jeeves and Woosters in 20 years."
Luckily, both Matthew Macfadyen and Stephen Mangan have worked together a few times before and are known to be old friends, so the pair's on-stage chemistry shouldn't prove a problem. Steve Mangan is best known for his work, both here and in America, in award-winning television comedies such as Channel 4's Green Wing, Showtime's Episodes, alongside Tamsin Greig and Matt LeBlanc and I'm Alan Partridge for the BBC. His theatre credits are also wide-ranging, including The School for Scandal with the RSC, Hay Fever at The Savoy theatre, Noises Off at The Piccadilly theatre and The Norman Conquests, both on the West End and Broadway, for which he received a Tony Award nomination.
Screen star Matthew Macfayden is most widely recognised for his role as Mr Darcy alongside Keira Knightley in Jane Austen's Pride and Prejudice. He just recently worked with Knightley again in Anna Karenina, but this time with Jude Law as competition. His television work won him a BAFTA for the BBC drama Criminal Justice, but most will remember his heart-stopping role as an MI5 agent in Spooks, opposite his wife Keeley Hawes. Macfayden's theatre credits include Henry IV, Parts One and Two opposite Michael Gambon at the National Theatre, Midsummer Night's Dream and The School for Scandal for the RSC and the 2010 production of Private Lives at the Vaudeville theatre, in which he starred opposite Kim Cattrall. (Cattrall is currently wowing audience and critic alike in Tennessee William's Sweet Bird Of Youth at the Old Vic).
Jeeves & Wooster: Perfect Nonsense plays at Richmond Theatre from 10 to 19 October and Theatre Royal Brighton from 22 to 26 October before it arrives in the West End at the Duke of York's theatre from 30 October.