A Midsummer Night's Dream opens its door to the public!
by Oliver Mitford on Saturday 14 September 2013, 2:44 pm in Upcoming and New Shows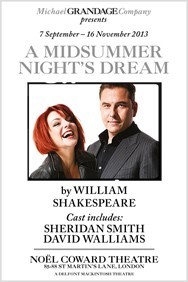 Theatre director extraordinaire Michael Grandage has had a phenomenal run so far at the Noel Coward Theatre with his season of plays. His star-studded productions have included Privates on Parade, Peter and Alice and The Cripple of Inishmaan. Now comes the fourth and penultimate play in the season, William Shakespeare's A Midsummer Night's Dream.
With the hilarious comic-turned-actor David Walliams playing the epitome of Bottom and Olivier Award-winner Sheridan Smith playing fairy queen Titania, theatreland is gearing up for a very special theatrical treat.
Joining Walliams and Smith onstage in this music festival-style take on Shakespeare's most famous plays is Susannah Fielding, straight from the Donmar's production of Trelawny of the Wells, and Katherine Kingsley, who was last seen singing her heart out on stage of the Palace Theatre in Singin' in the Rain. These two stage temptresses will play jealous lovers Hermia and Helena. The rest of the cast includes, Stefan Adegbola (Robin Starveling/Cobweb), Stefano Braschi (Demetrius), Pádraic Delaney (Oberon/Theseus), Richard Dempsey (Peter Quince/Moth), Henry Everett (Tom Snout/Peaseblossom), Gavin Fowler (Puck/Philostrate), Alex Large (Francis Flute/Mustardseed), Sam Swainsbury (Lysander), Craig Vye (Snug the Joiner/First Fairy) and Leo Wringer (Egeus).
A Midsummer Night's Dream follow four feuding lovers – Hermia, Helena, Lysander and Demetrius – as they journey through a magical wood populated by fairies and all other magical beings. Mischief and chaos ensue as the human and magical worlds collide, leaving us all guessing what is real and what is not…
A Midsummer Night's Dream runs at the Noel Coward Theatre until 16 November 2013. Book now to avoid disappointment.