The Royal Opera House's The Wind In The Willows set to transfer to West End
by Oliver Mitford on Friday 19 July 2013, 8:56 am in Upcoming and New Shows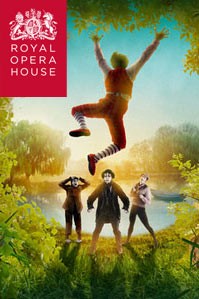 The Royal Opera House has announced that it is following in the footsteps of the National Theatre and the Royal Shakespeare Company by transferring a popular family show to the West End this winter.
The Wind In The Willows is the first ever Royal Opera House production to get a West End transfer. Choreographed and directed by Will Tuckett, it premiered ten years ago at the then newly opened Linbury Studio at The Royal Opera House. But now it will open at London's Duchess Theatre a fortnight before Christmas.
This West End accolade is something Tuckett seems very aware of when he stated: "I'm really thrilled and very proud that the first one to cross over is one of my pieces. It could be a really exciting chapter for the opera house. Quite erroneously, sometimes the opera house is looked at as being stuck and old-fashioned. It isn't and this is really nice way of people realising that it has shifted with the times."
The production takes Kenneth Grahame's classic children's story of Ratty, Moley, Badger and the mischievous Toad of Toad Hall and reinvents the tale through dance, song, puppetry and music. The show will run for eight weeks over the Christmas period, opening on 11 December and closing on 1 February 2014.
Commercial transfers from subsidised theatres have proved to be a great source of income over the past few years, especially in this tough economic climate. The National Theatre's productions of War Horse, One Man, Two Guvnors and The Curious Incident of the Dog in the Night-Time are all currently playing in the West End, while the RSC's transfer of Matilda the Musical continues to play to packed auditoriums in London and New York.
The Royal Opera House's chief executive Alex Beard called the transfer "a hugely exciting development", adding: "Will Tuckett's production is a wonderful family show and we're really pleased that more people will have the opportunity to see it just down the road from our Covent Garden home."
Tickets went on sale on 9 July, so book yours now, as this brilliant show is bound to be hugely popular and the smaller Duchess Theatre will sell out fast!