Shakespeare In Love to premiere on London Stage!
by Oliver Mitford on Friday 22 November 2013, 2:18 pm in Upcoming and New Shows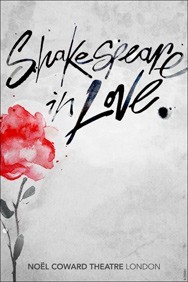 There were rumours as early as 2011 (remember this blog post!). The dynamic trio of Tony Award-winning writer Lee Hall (Billy Elliot the Musical) and Cheek By Jowl founders Declan Donnellan and Nick Ormerod, will soon be bringing the much loved silver screen romantic comedy, Shakespeare In Love to the stage. Tom Stoppards's tale of forbidden love and comical thespians is bound to cause much excitement.
Shakespeare In Love sets forth the story of a young William Shakespeare, tormented by debt and writer's block, discovering his ultimate muse in the form of young noblewoman Viola De Lessepes in Elizabethan England. The romantic comedy theoretically leads Shakespeare to pen one of his all-time classic plays, Romeo and Juliet.
Together, Donnellan and Ormerod formed theatre company Cheek by Jowl in 1981 and have since directed and designed more than 30 productions together, including Shakespeare plays such as Twelfth Night and A Midsummer Night's Dream. Cheek by Jowl's current production of Tis' Pity She's A Whore is about to tour the world for the third time.
Shakespeare in Love will be produced by Disney Theatrical Productions and Sonia Friedman Productions. When asked about the show Friedman said, 'Every now and then a story comes along that cries out to be staged. This is one such story. Shakespeare in Love bursts with life and is a moving and hilarious celebration of everything that we love about the inspirational and transformative power of theatre.'
Whilst the headline cast is as yet unannounced, advance booking is advisable for the July 2014 opening. Priority booking will open later this month, with tickets on sale to the public from February 2014.