A West End revival of Jez Butterworth's Mojo is announced for October 2013
by Oliver Mitford on Wednesday 31 July 2013, 12:31 pm in Upcoming and New Shows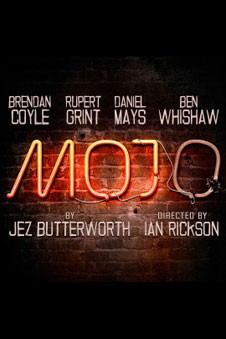 Gossip and rumors have been circulating around London's theatreland for months about the possibility of an all-star revival of Jez Butterworth's 1995 Royal Court play – Mojo. Pleased to say, these rumors were spot on and producer Sonia Friedman has confirmed that the production will open at the Harold Pinter Theatre on 26 October 2013.
Director Ian Rickson (who directed the original production) is set take the helm. Rickson was the mastermind behind Butterworth's Jerusalem, which starred Mark Rylance giving the performance of his career and became the must-see production of the past few years. Teaming up again with Rickson is set designer Ultz, who dazzled audiences with his design for The Changeling at the Young Vic last year and of course his design for Jerusalem.
The cast is to be led by Harry Potter star Rupert Grint, who will be making his stage debut. Starring alongside Grint will be Brendan Coyle (Downton Abbey), Ben Whishaw (Skyfall, Hamlet) and Daniel Mays (Trelawny of the Wells, Mrs Biggs). The original version of Mojo at the Royal Court Theatre starred Hollywood mega-stared Andy Serkis, Tom Hollander, and Aidan Gillen.
Set in a 1950's Soho nightclub, Mojo tells the dark and violent story of a rock singer that looks certain to make the big time, but gets in too deep with the seedy gangster underworld of the club. Rupert Grint will play Sweets, a small-time criminal with an addiction to amphetamines. Grint is best known for his role as Ron Weasley in the Harry Potter films. He follows his Potter co-star Daniel Radcliffe into the heady heights of London's West End. Radcliffe is currently starring in The Cripple of Inishmaan at the Noel Coward Theatre, as part of the Michael Grandage season.
Tickets for Mojo at the Harold Pinter Theatre will go on sale in September 2013. Put the date in your diary, as this one looks set to be the smash-hit of the year!