40% off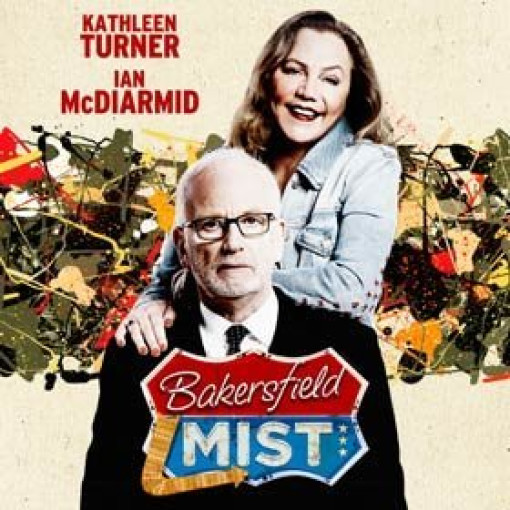 Bakersfield Mist
4.3/5
based on 17 reviews
(read reviews)
Booking until: Saturday, 9 August 2014
Running time: 1 hour 15 minutes
Bakersfield Mist description
While billed as fiction, this brand new play is apparently based on actual events, a clever exploration of what makes art and human beings truly authentic.
What's the story? Maude Gutman is fifty-something and dirt poor, a booze-sodden unemployed barmaid. One of her few pleasures is skip-diving, finding interesting and useful rubbish to use and repurpose at home. When she picks up a particularly ugly picture for a few dollars in a charity shop as a joke gift, she thinks it's just a piece of old junk. But she realises just in time that it looks very like a Jackson Pollock painting. If authentic it could be worth a fortune… as much as a hundred million dollars.
When the high-flying art expert Lionel Percy travels from New York to check the painting out at Maude's tatty Bakersfield trailer park home, he hasn't the faintest idea what he is letting himself in for. Maude is a formidable woman, feisty and strong, and he soon realises she is no fool. The exchange that follows is emotionally revealing, described by the LA Times as, "a wry two-hander that handles highbrow artistic issues while zinging in plenty of uproarious one-liners."
Apparently Sachs confessed to liking the idea of "bringing these two wonderful characters together - this bawdy, salty-tongued, boozy lady and this sophisticated art expert from New York - and have them butt heads." The result is sharp and very funny, a beautifully-observed exploration of greed, intellectual snobbery and the human condition. In short, a brilliant verbal punch-up that's not to be missed!
Kathleen Turner starred in The Graduate on Broadway and directed the off-Broadway revival of Crimes of the Heart. She was Oscar nominated for her role in Peggy Sue Got Married and has appeared widely on the small screen as well as movies. Ian McDiarmid played Darth Sidious in the Star Wars movies and has won Tony and Olivier Awards. All of which means you're in for a top quality theatre experience.
Directed by the talented Evening Standard award-winner Polly Teale with production by Laurence Miller and Lucie Lovatt, it proved a surprisingly big hit at Los Angeles' Fountain Theatre. Now it's in the West End for its European Premier at the Duchess Theatre, with lighting by Oliver Fenwick, scenic design by Tom Piper and sound by Jon Nichols.
Bakersfield Mist tickets – Stephen Sachs' excellent new comedy
If you'd like to secure Bakersfield Mist cheap tickets, we offer the full range of seating types, from low cost to premium, all with excellent availability.
Playing at Duchess Theatre
3-5 Catherine Street, London, WC2B 5LA (venue info)
Directions
Bakersfield Mist photos
Bakersfield Mist cheap tickets
Save 40%
Was £53.00 Now £31.50
Valid all performances until 9 August 2014
Performance Times
Bakersfield Mist news
Bakersfield Mist gears up for opening night
19

May
Bakersfield Mist gears up for opening night