Bakersfield Mist gears up for opening night
by Oliver Mitford on Monday 19 May 2014, 12:40 pm in Upcoming and New Shows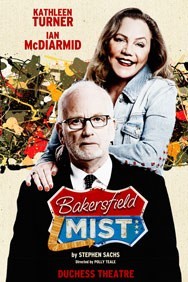 The European premiere of Stephen Sachs' Bakersfield Mist starring Kathleen Turner and Ian McDiarmid has begun previews at the Duchess Theatre and is all set for its grand opening on the 27 May 2014.
The two-actor comedy tells the story of a woman named Maude who buys a painting for only 3 American dollars from a local thrift store, believing it to be in original Jackson Pollock worth millions. Maud then employs the keen eye of Lionel Percy, a world-renowned art expert to authenticate the painting. However, they don't see eye to eye on the origin of the possible masterpiece…
Kathleen Turner returns to the West End following her previous roles in The Graduate and Who's Afraid of Virginia Woolf?. Her Broadway stage credits include Cat on a Hot Tin Roof and High. Turner has just stared in Mother Courage and Her Children in Washington, but she is probably best known for her film roles that include Body Heat, Who Framed Roger Rabbit, The Virgin Suicides, and Peggy Sue Got Married.
Ian McDiarmid won a Tony Award in 2006 for his role in Brian Friel's Faith Healer, but is best known for his role as the evil Darth Sidious in George Lucas's Star Wars reboot.
Bakersfield Mist is directed by Shared Experience artistic director Polly Teal and runs at the Duchess Theatre until 30 August 2014.