28% off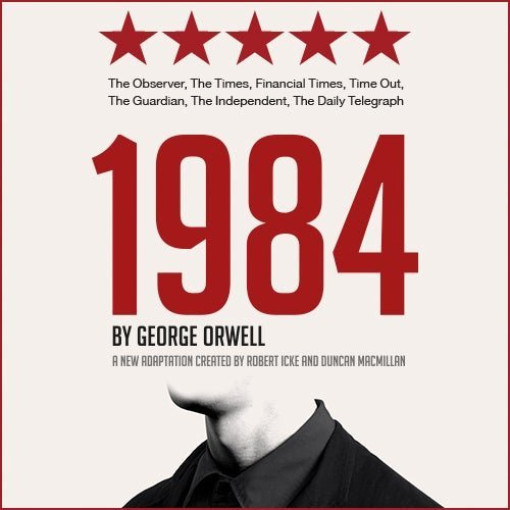 1984
4.3/5
based on 62 reviews
(read reviews)
Booking until: Saturday, 29 October 2016
Running time: 1 hour 40 minutes (No Interval)
1984 description
This is a very special production indeed, coming your way courtesy of Headlong, Nottingham Playhouse and the Almeida theatre. Their version of George Orwell's hugely popular dystopian novel 1984 transfers to the West End's Playhouse Theatre, and it's here for a strictly limited season.
It's time to get your skates on for a play that tells the disturbing tale of one ordinary man's battle against a repressive totalitarian state, faceless and brutal, a culture where there's constant electronic surveillance and the people are controlled from every angle.
In this horrid futuristic world governmental control is absolute. Even thinking the wrong thing is a crime. The resulting play is a powerful human story in its own right, a new adaptation of a book so famous it has been explored time and time again on stage and screen.
Robert Icke and Duncan Macmillan are responsible for a production that has already been nominated for an Olivier award for Best Play, and also direct the piece. The West End version is produced by Sonia Friedman Productions, Eleanor Lloyd Productions and Tulchin Bartner Productions.
What's the story? It's spring 1984 and comrade 6079, AKA Winston Smith, is about to change his life forever, inspired by a single, simple thought then falling head over heels in love. But Big Brother is watching, and there's no escape. The production is particularly radical, exploring the nature of dystopia, surveillance and personal identity through Orwell's vision of a future we hope will never come to fruition.
The Daily Telegraph has called it, "A remarkable, radical version blazing with clinical, spine-tingling finesse." The play has been awarded five star reviews by The Observer, Time Out, FT, Independent, Guardian and Telegraph. The signs are excellent, and it looks like Orwell's greatest novel is as relevant today as it was fifty years ago. If not more so…
Suitable for over 14s, the play stars Mark Arends, Tim Dutton and Hara Yannas, with Stephen Fewell, Christopher Patrick Nolan, Matthew Spencer , Gavin Spokes, and Mandi Symonds.
1984 tickets – Playful and gutsy, a famous story with a new twist
If you'd like to secure 1984 cheap tickets, we offer the full range of seating types, from low cost to premium, all with excellent availability.
Playing at Playhouse Theatre
Northumberland Avenue, London, WC2N 5DE (venue info)
Directions
1984 cheap tickets
Save 28%
Was £55.00 Now £39.50
Valid on 26 October 2016, matinee only.
Save 18%
Was £40.00 Now £32.50
Valid on 26 October 2016, matinee only.
Save 24%
Was £20.00 Now £15.00
Valid on 26 October 2016, matinee only.
Age restrictions
Suitable for ages 14+
Important information
Latecomers will not be admitted.
This production contains loud noises and flashing lights.
Performance Times
1984 news
1984 Review
12

Jun
1984 Review
Headlong's 1984 to take over Spamalot at the Playhouse Theatre
13

Mar
Headlong's 1984 to take over Spamalot at the Playhouse Theatre