Headlong's 1984 to take over Spamalot at the Playhouse Theatre
by Oliver Mitford on Thursday 13 March 2014, 9:09 am in Upcoming and New Shows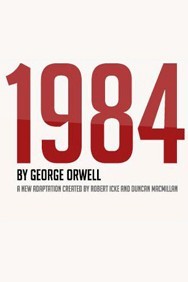 Headlong's critically acclaimed production of George Orwell's 1984 transfers from the Almeida Theatre to the West End's Playhouse Theatre from 28 April. The current production gracing the stage of the Playhouse is Monty Python's Spamalot and will end its run on 12 April.
Adapted and directed by Duncan Macmillan and Robert Icke, 1984 will transfer for a limited 12 week run after a sell-out run at the Almeida and hugely successful UK tour. The adaptation of Orwell's bleak dystopian future is a co-production between Headlong, the Almeida Theatre and the Nottingham Playhouse and will run in the West End from 8 May to 19 July 2014, with previews starting 28 April.
1984 tells the chilling story of a future Great Britain griped by perpetual war and an oppressive government Party that uses a mind reading surveillance programme called Big Brother. The rebel of the story, Winston Smith works for the Ministry of Truth, a government agency responsible for spreading propaganda, but Smith secretly hates the Party and dreams of revolution against the sinister Big Brother.
The cast of 1984 includes: Christopher Patrick Nolan, Mandi Symonds, Stephen Fewell, Mark Arends, Tim Dutton, Matthew Spencer and Gavin Spokes.
Spamalot is currently staring Bonnie Langford, Joe Pasquale and Daniel Boys, with the final performance on 12 April 2014.
Tickets for 1984 at the Playhouse Theatre are now on sale and if you're quick then you can get your hands on the 101 tickets for every performance priced at the brilliantly clever £19.84!