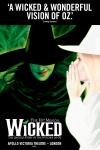 Based on the acclaimed and much loved book by Gregory Maguire, Wicked tells the incredible story of the Witches of Oz. Did you ever wonder how one came to be called 'good' and the other 'wicked'? You won't have to wonder much longer when you book tickets for this superb, award winning Apollo Victoria Theatre show!
Booking from: Wednesday, 27 September 2006
Booking until: Saturday, 26 April 2014
Matinees: Wednesday and Saturday 2.30pm
Evenings: Monday to Saturday 7.30pm
Running time: 2 hours 45 minutes

Playing at the Apollo Victoria.
Wicked tickets – The fascinating fairytale prequel to The Wizard of Oz!
The Independent newspaper called it "the West End's most successful new musical" and it's no surprise. Wicked first opened at London's Apollo Victoria Theatre in September 2006 and has been thrilling audiences ever since.
Novelist Gregory Maguire that re-imagined the stories and characters created by L. Frank Baum in 'The Wonderful Wizard of Oz' to create Wicked. It tells the incredible story of an unlikely but profound friendship between two girls who first meet... as sorcery students.
Through a series of extraordinary adventures in the land of Oz they ultimately fulfil their destinies as Glinda The Good and the Wicked Witch of the West. It's a fantastic story that holds just as true today as it dis in the book, an unforgettable, award-winning musical that reveals the darker side of Oz, with a sinister edge you'd never imagined before. Great fun!
The winner of numerous prestigious theatre industry awards, Wicked is a rich feast of a musical packed with excitement, adventure and surprises. Plus truly great tunes! The Apollo Victoria is lovely too, an excellent example of art deco design restored to its former glory just before Wicked launched and named the West End's 'Most Comfortable Theatre' by The Stage magazine.
So book now for a top quality theatre experience and a tale you'll never forget!
Age Restrictions:
Recommended for ages 7 and over (children under 4 not admitted).
Wicked in the press
A wicked and wonderful vision of Oz
Evening Standard
Hugely popular musical
The Times
The hit musical with brains, heart and courage
The Sunday Telegraph