No booking fee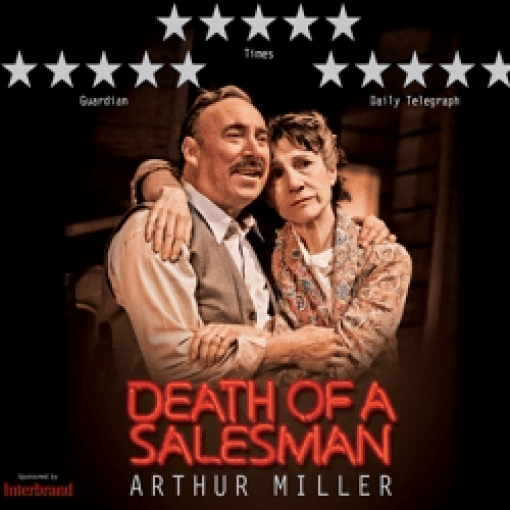 Death of a Salesman
4.8/5
based on 12 reviews
(read reviews)
Booking until: Saturday, 18 July 2015
Running time: 2 hours 45 minutes
Death of a Salesman description
Death of a Salesman – At the Noel Coward Theatre
This brilliant 1949 play by Arthur Miller won the 1949 Pulitzer Prize for Drama and a Tony Award for Best Play. It premièred on Broadway, running for 742 performances, and has been revived on Broadway four times since then, wining more awards each time.
This is a truly intellectual play that has always caused a stir, being part social criticism, part genuine tragedy and part intense psychological study. How you experience it is down to you. Whatever you feel about it, this thought-provoking piece changed the course of modern theatre and has lost none of its power to shock as it examines consumerism and its central role in US life.
What's the story? The ageing salesman Willy Loman has just returned from a sales trip. He's having difficulties with his memory and finds it hard to distinguish the present from the past. He is failing at his job and his two sons Biff and Happy are also failing, in his eyes, to live up to the family's high expectations.
Willy finds himself spiralling into a maelstrom of reminiscence and regret, railing at the American dream's dysfunction and doubting the pursuit of wealth and success. The result is a fascinating but terrible emotional journey driven by Willy, the ultimate in insecure anti-heroes.
Arthur Miller himself died in 2005. This play was his finest achievement, a disturbing theatrical masterpiece rich in self-delusion, self promotion and self defeat. It bridges realism and abstraction with ease and flair, delivering a bumpy emotional ride you won't forget in a hurry.
Miller's best known works include All My Sons, from 1947, The Crucible from 1953, A View from the Bridge from 1955 and also from 1955, A Memory of Two Mondays. But whether or not you're a Miller aficionado, this powerful and complex story will hit you hard, keep you hanging on and spit you out at the end, exhausted and thrilled, with plenty to think about. Much more than a mere play, this is a chunk of life mercilessly exposed and explored in minute detail. Not to be missed, and just as relevant today as it was half a century ago.
Death of a Salesman tickets – Catch it while you can
If you'd like to buy Death of a Salesman cheap tickets, we have the full range of seating types on offer, from low cost to premium, all with excellent availability.
Playing at Noel Coward Theatre
85-88 St Martin's Lane, London, WC2N 4AU (venue info)
Directions
Death of a Salesman cheap tickets
Save 2%
Was £23.00 Now £22.50
Valid all performances between 22 May to 18 July 2015
Important information
Special Performances
26th June 7.30pm – Audio Described Performance
10th July 7.30pm - Captioned Performance
Performance Times