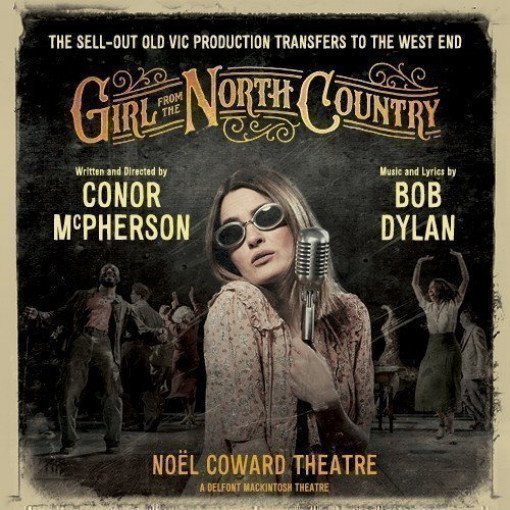 Girl From the North Country
4.4/5
based on 16 reviews
(read reviews)
Booking until: Saturday, 24 March 2018
Girl From the North Country description
Its title is taken from a song by Bob Dylan, so it follows that Girl From The North Country incorporates and weaves in music from Dylan's extensive back catalogue into a powerful performance. It first opened in 2017 at The Old Vic and sold out its whole twelve-week run. Now the production is transferring to the West End's Noel Coward Theatre for a limited season at the end of the year and promises a show full of heartbreak, hope and soul.
The Noel Coward Theatre last played host to Martin Freeman and Tamsin Grieg in Labour of Love. From one political play to another, Girl From The North Country paints a picture of the working class that Labour of Love is trying to look after. Except it's across the Atlantic and 50 years in the past – set in Minnesota, it tells the story of a guesthouse about to default its mortgage payments, a mother slowly losing her mind and a daughter trapped in a single parent pregnancy.Then, on one fateful night, two new figures come to the door and tip this community over the edge, past the point of no return.
Writer Conor McPherson is no stranger to the West End – one of his early plays, The Weir, won an Olivier Award for Best New Play and transferred across the pond to Broadway. His last work in London, The Night Alive, played at the Donmar Warehouse and was nominated for the same award 15 years later. Now he is back in a play using music from a Nobel Laureate whose music defined a generation in the 1960s.
Girl From The North Country is a play with music, rather than a musical in its own right. With a 20-strong company of actors and musicians, it showcases the range and impact of Dylan's songs throughout his five-decade music career and brings them to life in a vivid, new and exciting way. With over 100 million records sold, Dylan is one of the best-selling artists of all time, as well as being inducted into the Rock and Roll of Fame and holding a number of industry accolades. The play comes to London on the 55th anniversary of the eponymous song that it is named after, a song that was originally released as part of Dylan's second studio album.
With a cast including Ciarán Hinds, Shirley Henderson, Stanley Townsend and Debbie Kurup, Girl From The North Country plays from 29 December 2017 – 24 March 2018. As a show that gleaned six five-star reviews from the major newspapers, this production will sell out just as fast as its first run. Book those tickets now to avoid disappointment!
Playing at Noel Coward Theatre
85-88 St Martin's Lane, London, WC2N 4AU (venue info)
Directions
Girl From the North Country photos
Girl From the North Country video
Performance Times