Could Strangers on a Train be the next big thing?
by Oliver Mitford on Monday 16 September 2013, 9:08 pm in West End News & Gossip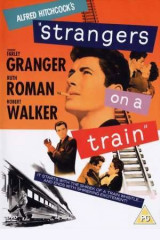 Rumour has it that king-pin producer Cameron Mackintosh has his eyes on 1950's crime thriller Strangers on a Train as his next big West End production. Insiders of London's theatreland have earmarked the Gielgud Theatre, currently showing Noel Coward's Private Lives, as the theatre of choice. If this proves to be true, it would mean that the West End transfer of Chichester's revival of Barnum, that was looking to go into the Gielgud Theatre, could be axed!
Having been made famous by Alfred Hitchcock's legendary film adaptation, Strangers on a Train was originally a novel by Patricia Highsmith that wowed readers with its sudden twists and psychological thriller style. The Hitchcock film stared Farley Granger and Robert Walker as the eponymous strangers who meet on a train, where they concoct a scheme to carry out each other's plans for murder, thereby creating for themselves the perfect alibi.
This new stage adaptation is reported to be directed by Robert Allan Ackerman, with award-winning screenwriter and playwright Craig Warner set to adapt the film and novel into a theatrical thriller.
It is also been suggested that West End actor Laurence Fox – the husband of actress Billy Piper – will star in the production, having recently been in Our Boys at the Duchess Theatre. Another name thrown into the ring is Jack Huston, star of HBO television series Boardwalk Empire. Only time will tell if any of these rumours turn out to be true, but like most West End gossip, there is always some reason for the rumours circulating and most do turn out to be true!