New Cast and Booking Extension for MAMMA MIA! in London
by Best of Theatre Staff on Friday 1 September 2023, 9:00 am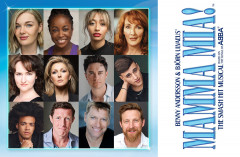 Ahead of its 25th anniversary on 6 April 2024, producer Judy Craymer is delighted to announce the new cast of the global smash hit musical MAMMA MIA! from Monday 9 October 2023 and the extension of its booking period to Saturday 28 September 2024 at London's Novello Theatre, with tickets on sale at 10am tomorrow, Friday 1 September 2023.
The London cast will continue to star Mazz Murray as Donna, Christopher Dickins as Harry, Stephen Beckett as Bill, Meg Hateley as Sophie and Miles Henderson as Sky, with Jennifer Adab continuing as Donna at certain performances. Jessie Odeleye moves from Ensemble to play the role of Ali. They will be joined on Monday 9 October by Kate Graham (previously played Tanya in London from 2017 to 2019 and most recently played Diane in Come From Away at Phoenix Theatre) as Tanya, Nicola-Dawn Brook (Cirque du Soleil's Saltimbanco for the European Big Top Tours, Royal Albert Hall and World Arena Tour; West End credits include Copacabana, Fame, Aspects of Love) as Rosie, Haydn Oakley (Lord Evelyn Oakleigh in Anything Goes at Barbican, Joseph/Jesus in The Book of Mormon at Prince of Wales Theatre and Henri Baurel in An American in Paris at Dominion Theatre) as Sam, Olivia Brookes (Glory Ride at The Other Palace and Pretty Woman: The Musical at the Savoy) as Lisa, Chay Wills (The Cher Show UK & Ireland Tour) as Eddie and Arcangelo Ciulla (Newsies at Troubadour Wembley Park Theatre) as Pepper.
Also continuing in the cast are Sinéad Courtney and Lawrence Guntert. They will be joined by Aaron Archer, Amy Barker, Matthew Barrow, John-Paul Birss, Daniel J Brian, Izzy Cross, Ellis Dackombe, Lauren Dawes, Léa Desjacques, Samantha Ivey, Jennie Jacobs, Luke Jasztal, Nicole Lupino, Flyn Mullins, Hayley-Jo Murphy, Bradley Perret, Jacob Ritzema and Ella Tweed.
Since premiering in London in 1999, the irresistible feelgood musical has captured the hearts of millions around the globe. The sunny, funny tale of a mother, a daughter and three possible dads on a Greek island idyll, all unfolding to the magic of ABBA's timeless pop masterpieces, has now been seen live on stage by 65 million people across the world and turned into two record-breaking movies – MAMMA MIA! The Movie and MAMMA MIA! Here We Go Again.
A new TV show, MAMMA MIA! I Have a Dream, will be broadcast on ITV1 later this year, produced by Thames (a Fremantle label) and Littlestar. The competition will culminate in a live, dazzling grand-finale, broadcast from a theatre in London's West End, where two winners will win the roles of Sophie and Sky in MAMMA MIA! at the Novello Theatre as it celebrates its 25th year.
To date, MAMMA MIA! has been seen in 50 productions in 16 different languages grossing more than $4 billion at the box office. In 2011, it became the first Western musical ever to be staged in Mandarin in the People's Republic of China.
MAMMA MIA! originally opened in London at the Prince Edward Theatre on 6 April 1999, before transferring to the Prince of Wales Theatre in 2004, and then to the Novello Theatre in 2012. The London production of MAMMA MIA! has been seen by over 10 million people, played over 9,300 performances and has broken box office records in all three of its London homes. It is the third longest running musical in West End history.
Produced by Judy Craymer, MAMMA MIA! The Movie became the highest grossing live action musical film of all time upon its release in 2008. A second film, MAMMA MIA! HERE WE GO AGAIN, opened in July 2018 and is the most successful live musical movie sequel of all time.
With music & lyrics by Benny Andersson & Björn Ulvaeus, MAMMA MIA! is written by Catherine Johnson, directed by Phyllida Lloyd and choreographed by Anthony Van Laast. The production is designed by Mark Thompson, with lighting design by Howard Harrison, sound design by Andrew Bruce & Bobby Aitken, and musical supervision, additional material & arrangements by Martin Koch.
MAMMA MIA! is produced by Judy Craymer, Richard East & Björn Ulvaeus for Littlestar in association with Universal.