I Can't Sing! cancels previews due to technical problems
by Oliver Mitford on Wednesday 5 March 2014, 9:16 pm in West End News & Gossip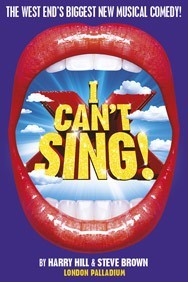 Preview performances of X Factor musical I Can't Sing! have been postponed for the second time due to technical issues with the complex stage machinery. The hotly anticipated new musical was due to begin previews on 27 February, but this date moved to 1 March after the first bout of technical problems reared their ugly head. However, it has now been announced that the show won't open its doors to the public until late next week and no official date has been given.
The delay in opening has been attributed to an integral part of the stage mechanism for the show's set, which is currently not operating correctly and needs to be resolved before performances can begin at the London Palladium.
The shows producer at Stage Entertainment Rebecca Quigley made a statement saying: 'Our teams have been working extremely hard to correct a problem which has developed this week with a particularly intricate piece of technical equipment. Our show features a hugely ambitious set, including a multi-truck system on track embedded in the stage, to allow pieces to move constantly during the performance. This tracking system is not operating correctly and it's imperative, for the safety of our actors and the quality of the production that we're committed to delivering, that we take the time needed to resolve this issue. I'd like to offer our sincere apologies to everyone who has bought a ticket for this week's preview performances and can assure you that everyone at the Palladium is working night and day to guarantee that I Can't Sing!, in all its hilarious, all-singing, all-dancing glory, will begin previews next week as scheduled.'
This is not the first time a show has cancelled previews due to technical problems. Andrew Lloyd Webber's production of The Wizard of Oz also at the London Palladium, encountered ongoing issues with their revolving set before the production officially opened. Last year, Charlie and the Chocolate Factory was forced to cancel their first few previews due to problems with the Great Glass Elevator, as it kept breaking down in mid-flight. But non of these compare to the catalogue of problems that plagued Spider Man: Turn Off the Dark on Broadway. The production suspended previews for over a month and the technical hitches were a major part of the shows massive $75 million final budget. Lets just hope the same fate doesn't befall I Can't Sing!
Any ticket holders for the cancelled performances are advised to contact their point of purchase for exchanges.