Good People starring Imelda Staunton gets ready to open at the Noel Coward Theatre
by Oliver Mitford on Tuesday 8 April 2014, 2:01 pm in Upcoming and New Shows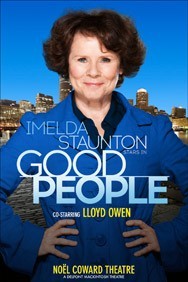 The Hampstead Theatre production of Good People starring Imelda Staunton and Lloyd Owen is getting ready to open in the West End at the Noel Coward Theatre after a sell-out run in Hampstead. The production will open on 15 April, following previews from 10 April and is set to run for 10 weeks prior to the upcoming production of Shakespeare in Love.
Written by Pulitzer Prize-winner David Lindsay-Abaire, Good People won the New York Drama Critics' Circle Award for Best Play of the Year when it premiered on Broadway. The Hampstead Theatre production marks its UK premiere.
Imelda Staunton plays a cold hearted single-mother named Margie, who will do anything it takes to pay the bills after losing yet another job. Upon hearing that an old boyfriend is back in town and has become very wealthy, Margie decides to corner him…
Good People is directed by Jonathan Kent, the man behind Staunton's award-winning portrayal of Mrs Lovett in Chichester Festival Theatre's production of Sweeney Todd, also staring Michael Ball. The multi-award winning show then went on to transfer to the Adelphi Theatre.
The Noel Coward Theatre was the home of The Full Monty, but the play closed early due to poor ticket sales, despite receiving excellent reviews.
Good People previews from 10 April, with press night on 15 April 2014.