Charlie and the Chocolate Factory - Show of the Month
by Oliver Mitford on Sunday 1 December 2013, 9:18 am in Show of the Month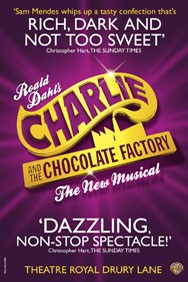 No matter your age, Charlie and the Chocolate Factory will get your imaginations flowing at the Theatre Royal Drury Lane.
Legendary British film and theatre director Sam Mendes must have known the pressure would be on for his staging of Roald Dahl's cherished children's story, Charlie and the Chocolate Factory. However, after the phenomenal success he had with the new James Bond film, Skyfall, the expectations for the new musical were insurmountably high. The big question on everyone's lips was: 'Is it any good?'...
It's safe to say the production lives up to the hype. Even from the very opening of the show, it doesn't fail to impress, as a full-blown animation film by Roald Dahl's long-time collaborator Quentin Blake whizzes around the stage, explaining the history of the famous chocolate factory.
This is just a small taste of what is to come in terms of set design, as the audience is about to be taken on a journey to an edible forest, a flowing river of chocolate, murderous squirrels, dancing Oompa-Loompas and even a flying glass elevator! Designer Mark Thompson has achieved the impossible and managed to create the ingenious set pieces that make this musical so magical. Not since the Miss Saigon helicopter descended onto the very same stage of the Theatre Royal Drury Lane has an audience been so spellbound by the sheer spectacle of it all.
The story of Charlie and the Chocolate Factory follows little Charlie Bucket as he embarks on a fairytale adventure into the bizarre world of Willy Wonka's Chocolate Factory. Charlie lives in a ramshackle house where numerous grandparents all live in the same bed. He dreams of a better future, preferably one filled with sweets and chocolate. Enter the mysterious confectioner Willy Wonka (Douglas Hodge) and his secretive chocolate factory that emits strange noises and wonderful smells. Wonka decides to hold a competition to allow a few lucky children to enter the peculiar world of his factory. He hides five golden tickets inside the wrappers of his chocolate bars and the holders of these tickets will be allowed a glimpse into the astonishing world of Willy Wonka. Needless to say, Charlie finds a golden ticket and enters the mysterious factory with his Grandpa Joe (Nigel Planer), along with an array of horrible children that all seems to come to appropriately sticky endings at the hands of either Oompa-Loompas or deliciously destructive machinery.
The cast of this production seems to enjoy seeing how far they can push the grotesque natures of their characters. For example, rotund German child Augustus Gloop comes with a barrel-like 'fat suit' and even yodels, while Mike Teavee's mother, so traumatised by her son's bad behaviour, keeps popping pills from a suspicious orange container at every chance she gets.
The three young actors that share the part of Charlie Bucket have quite a job on their hands, as they really do carry the show. Charlie is on stage for the entire two hours' running time and not only is there a lot of acting to do, but it is a physically demanding role, so hats off to the them for keeping up with the adults!
Having said this, they all pale in comparison to Douglas Hodge's mercurial performance as Willy Wonka. Hodge seems to be channeling a mixture of David Bowie and Michael Jackson as he skips across the stage with the vitality of someone half his age. His Willy Wonka is more villain than hero, as he leers over his possible victims in a devilish looking moustache and top hat, never sure if he is going to shout or laugh. Hodge has perfectly matched the tone of the story, which although written for a young audience, is as dark as they come.
You can tell that Charlie and the Chocolate Factory is a Marc Shaiman musical. This composer's playful melodies and bouncy rhythms keep the energy of the production in check and there are still the same sarcastic lilts to the composition that made Hairspray such a massive success. The one problem that comes with this fast-paced style is that the cast has to keep up vocally; they can never let the ball drop otherwise the audience will miss a vital lyric in a cleverly constructed line of phrase.
Charlie and the Chocolate Factory is a must for any family trip to London, as there is something in the show for every age group. Some parents might even find themselves laughing along with their kids!
Charlie and the Chocolate Factory is booking until 31 May 2014. Like the show, tickets are golden, so book now to avoid disappointment!