Afraid of The Dark - Full Cast announced for brand new terrifying West End show
by Oliver Mitford on Saturday 17 August 2013, 4:59 pm in Cast Changes and Announcements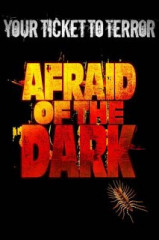 The brand-new play Afraid of The Dark, written by an anonymous writer, looks set to delve into audiences' deepest darkest fears in a live spectacular show due to open on 2 September at the Charing Cross Theatre.
This new theatrical terror is set in 1950's Hollywood, where a failing B-movie film studio is trying desperately to discover the next spine-chilling box office smash hit. When a mysterious stranger arrives at the studio, he plunges them into a nightmare world where the line between imagination and reality are terrifyingly blurred.
The cast includes Charlie Anson, Rebecca Blackstone, Julian Forsyth, John Guerrasio, and Mark Rice-Oxley.
Charlie Anson is best know from his television roles in Doctor Who, Downton Abbey, The Borgias, Any Human Heart and Rome. On stage, he has appeared in Portrait of a Lady and Arcadia.
Rebecca Blackstone's West End appearances include Cool Hand Luke and The Sunshine Boys with Danny Devito and Richard Griffiths.
Julian Forsyth's extensive theatre credits include Woman In Black, Wicked, Cyrano de Bergerac and Rosancrantz and Guildenstern are Dead.
New Yorker John Guerrasio began his career with the acclaimed Roundabout Theatre. West End appearances include Betrayal, Conversations With My Father, Arsenic and Old Lace, and Burn This.
Mark Rice-Oxley theatrical credits include Blood Brothers, Much Ado About Nothing, Merchant of Venice, Holding Fire, Life of Galileo and David Copperfield.
Afraid of the Dark is directed by Olivier Award-winner Ian Talbot and runs at the Charing Cross Theatre from 2 September to 26 October, with press night on 11 September. Book your tickets now for this truly chilling theatrical experience!