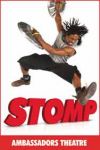 There's theatre. There's dance. There's comedy. And percussion. It's big. It's warm. It's inspiring. It's funny. It's a unique, non-stop theatre experience that's thrilled audiences worldwide. It's Stomp. And it makes music from the mundane at London's Ambassadors Theatre. Award winning, brilliant stuff!
Booking from: Thursday, 20 September 2007
Booking until: Monday, 23 December 2013
Matinees: Thursday and Saturday, 3pm, Sunday 3pm and 6pm.
Evenings: Monday, Thursday, Friday and Saturday 8pm
Running time: 1 hour 40 minutes

Playing at the The Ambassadors Theatre.
Stomp tickets – Seven sensational years on the London stage!
Combining elements of theatre, dance, comedy and percussion, Stomp is celebrating its seventh sensational year on the West End stage. And now it's fresher, faster and funnier than ever!
New routines, new choreography and new music make this already multi-award winning show into something even more special than ever. Tapping into the universal human language of rhythm, it's a vibrant adventure into theatre, comedy and dance.
The deal? Eight superbly skilful performers use everyday objects like Zippo lighters, plastic bags, bin lids and kitchen sinks to create a big, warm, inclusive, infectious rhythm that hits you in the happy place... and keeps you there right 'til the end.
The Boston Herald said about the US show, "If you haven't seem Stomp... GO! If you have seen it, take someone who hasn't and share the pleasure". High praise, and deservedly so. This breathtaking show leaves you feeling uplifted, inspired and excited. Ready to take your life by the scruff of its neck and give it a good, strong, positive shake! Brilliant for fledgling drummers too, and an inspiration for anyone who feels music is for everyone. And can be made using anything... including the kitchen sink!
It's a hyper energetic helter skelter ride of rhythm and sound designed to keep your feet tapping from start to finish. Book Stomp tickets now!
Stalls Rows O-R are slightly restricted view due to the overhang of the Circle.
Stomp in the press
Entrancing, Exhilarating. Terrific
The Independent
Pure Stage Magic
Sunday Telegraph
This unique percussion and dance show has evolved over the last 11 years from humble street theatre in Brighton into a worldwide, multimedia sensation
The Stage