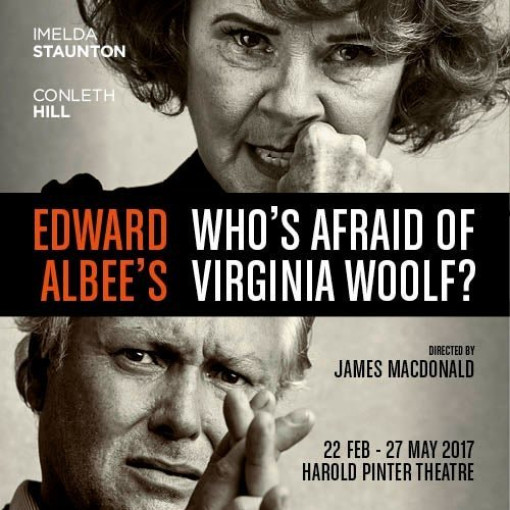 Who's Afraid of Virginia Woolf
4.8/5
based on 21 reviews
(read reviews)
Booking until: Saturday, 27 May 2017
Running time: 3 hours (One interval and a 3 minute pause after act two)
Who's Afraid of Virginia Woolf description
What's the story? It's very late at night, so late it's almost morning. The setting is the campus of an American college. Rebellious Martha has invited the college's new professor Nick and his young wife Honey to their home for an after-party drinking session, despite her husband George's disapproval. The alcohol flows freely and the younger couple find themselves drawn into the older pair's nasty mind games as they bitchily score points off each other. The party ends in an awful, awesome climax when the horrid, devastating truth is finally revealed...
The exceptional Imelda Staunton is back in the West End to star in this long-awaited revival, fresh from her epic Olivier Award-winning performances as Mama Rose in Gypsy and Mrs Lovett in Sweeney Todd. She's no stranger to the theatre, nor to the playwright Albee, having starred in his play A Delicate Balance at the Almeida Theatre. She won a Bafta for her title role as Vera Drake, and also as Dolores Umbridge in the hugely popular Harry Potter films.
Conleth Hill is another Game of Thrones hero, and that's probably what he's best know for. He played Lord Varys to perfection in the popular HBO TV show, and gathered excellent reviews for roles in Quartermaine's Terms, The Cherry Orchard, and an Olivier and Tony award winning stint in The Producers. He also won an Olivier Award and Tony Award nomination for Best Actor for Stones In His Pockets.
Who's Afraid of Virginia Woolf? won the 1963 Tony Award for Best Play as well as the 1962–63 New York Drama Critics' Circle Award for Best Play, plus the 1963 Tony Awards for Best Actor and Actress. It was chosen for the 1963 Pulitzer Prize for Drama, but the award advisory board disliked the play's controversial use of bad language and sexual themes, and overruled the nomination. As a result there was no Pulitzer Prize awarded that year. These days the content isn't anywhere near as shocking as it must have been way back then, but it's still gloriously frank and merciless, and it still makes audiences wince.
A film was made of the story in 1966, starring Elizabeth Taylor as Martha, Richard Burton as George, George Segal as Nick and Sandy Dennis as Honey. And they were all nominated for Academy Awards for their roles. Liz Taylor won the Oscar for Best Actress and Sandy Dennis won the year's Oscar for Best Actress in a Supporting Role.
This really is a classic to end all classics, a play that has seldom been off the stage throughout its long and illustrious career. Every dedicated theatre fan will want to get it under their belt, so grab tickets while you can and secure your seats for a very special on-stage experience.
Who's Afraid Of Virginia Woolf tickets – An absolute classic
If you'd like to buy Who's Afraid Of Virginia Woolf cheap tickets we sell every type of seat, from low cost to the best in the house, all with excellent availability and backed by excellent service.
Starring
Imelda Staunton, Conleth Hill
Playing at Harold Pinter Theatre
6 Panton Street, London, SW1Y 4DN (venue info)
Directions
Who's Afraid of Virginia Woolf photos
Age restrictions
Recommended for 12+. Children under 5 years and babes in arms will strictly not be admitted.
Important information
Contains strong language and adult themes.
Performance Times