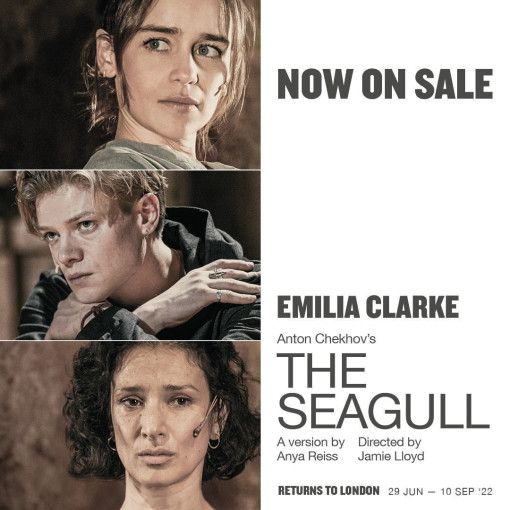 The Seagull
Opens: Wednesday, 29 June 2022

-


Booking until: Saturday, 10 September 2022
The Seagull photos
The Seagull description
The Seagull – With Game of Thrones' Emilia Clarke
The Jamie Lloyd company is thrilled to present the brilliant Emilia Clarke in The Seagull, the Anton Chekhov masterpiece that has been cleverly adapted by Anya Reiss to bring it sizzling into the 21st century. The Game of Thrones star portrays the ambitious actress Nina, bringing an extra edge to this marvellous play that explores the themes of tragedy, love, obsession, jealousy and regret.
Make your way to London's Playhouse Theatre from 11th March onwards to experience a fresh adaptation of the classic Russian play that's already predicted to sell out.
What's the story? A young woman is desperate for fame, keen to escape the humdrum of everyday ordinary life. A young man is dreaming of the woman he is obsessed with. A successful writer doesn't understand why he doesn't feel fulfilled by his success. And an actress wants time to stand still. Bring them all together in an isolated rural home and sparks fly. As a result their dreams and destroyed, their hopes smashed and their hearts broken. And, finally, when it's clear there's nowhere else to turn, they turn on each other.
The Jamie Lloyd company has just completed a critically-acclaimed, five-star version of Cyrano de Bergerac, the first in their Playhouse Season, and this is the second in the season.
This is Emilia Clarke's West End debut, and she's delighted to be playing Nina in Jamie Lloyd's interpretation of The Seagull. She's a big Lloyd fan and feels fortunate to be working with Anya Reiss's 'brilliant adaptation', whose 'light touch of modernity' brings this beautifully crafted play to dazzling life, as relevant and potent as ever.
Anya Reiss has worked on Oliver Twist at Regent's Park Open Air Theatre, Uncle Vanya at the St James' Theatre, Spring Awakening, Three Sisters, The Acid Test and many more. She's also worked on screenwriting for TV hits like Ackley Bridge and EastEnders. Emilia Clarke starred in Breakfast at Tiffany's at the Cort Theatre in New York, in the movie Spike Island, in Dom Hemingway, Terminator: Genisys, Me Before You, Solo: A Star Wars Story and more. The design comes from Soutra Gilmour and the rest of the cast and creative team will be announced soon.
Don't miss this splendid adaptation of a Russian masterpiece!
Starring
Emilia Clarke
Playing at Harold Pinter Theatre
6 Panton Street, London, SW1Y 4DN GB (venue info)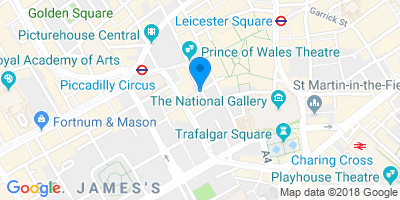 Directions
Important information
Please note latecomers will not be admitted. Should you choose to leave your seats once the performance begins, there will be no readmission into the auditorium.
Performance Times
The Seagull news