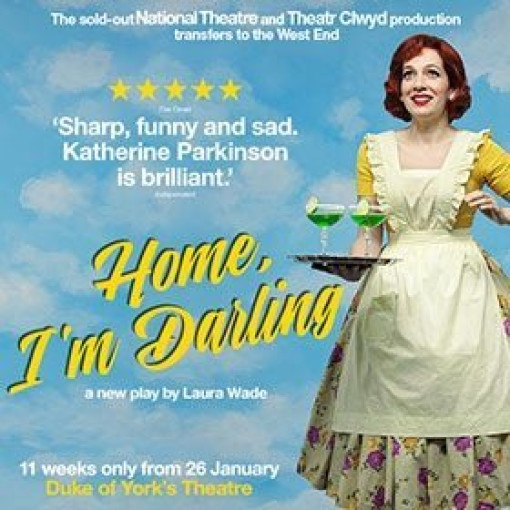 Home I'm Darling
4.3/5
based on 20 reviews
(read reviews)
Booking until: Saturday, 13 April 2019
Home I'm Darling description
Home I'm Darling – Starring The IT Crowd's Katherine Parkinson
This is Laura Wade's first original play since Posh, in 2010, the powerful satire that cleverly explores class divisions. Katherine Parkinson is a very funny woman. And she's totally superb in Wade's latest play Home I'm Darling, a dazzlingly good play about Judy, who lives in the 21st century but is obsessed with becoming a perfect 1950s-style housewife.
Judy and Johnny live in a 1950s dream. She grows their own vegetables, she makes marmalade. Their home is a masterpiece of quirky 1950s décor, garish and plastic. She dresses up for a day's housework in full make-up and a beautiful frock. She makes Johnny's breakfast and packs his lunch. The house reflects the decade, a riotous pink bathroom suite, a vivid yellow kitchen, a turquoise lounge. Having waved Johnny off to work with a wide toothy smile, she retrieves her laptop from a drawer... and you realise for the first time that this isn't 1950. It's 2018.
While Judy looks the perfect part, the archetypal 1950s American housewife, it's actually completely artificial. Judy and her great friend Fran adore shopping for vintage goodies. They wait all year for their annual trip to the '50s dance festival Jivestock. But to Fran it's just a hobby, a bit of fun. Not a way of life.
How did things get so obsessive? When 38 year old Judy is offered voluntary redundancy she accepts and leaves her life in corporate finance. She decides not to look for another job, instead taking on the role of a retro domestic goddess. She cleans, she bakes, she irons, she sews. And the moment Johnny gets home she's waiting for him, cocktail in hand.
This is an extremely funny, sad and wonderfully sharp exploration of a doomed marriage, tracking the mighty effort one woman makes to create marital bliss against the odds. Judy is delightfully, deliciously delusional, the dialogue is seriously witty, the plot is full of brilliantly crazy contradictions. You can almost taste the irony as Judy goes online to search a forum for 1950s housework tips.
Against this background of self-delusion Judy insists she's a feminist, that this is the life she's chosen for herself. No wonder her ex-hippy mum, played by Sian Thomas, is so disapproving of her daughter's 'gingham paradise'. Unlike Judy she actually remembers the 1950s, and she knows they weren't anywhere near as perfect as history might want us to believe.
When the money starts to run low Johnny gets restless and considers an affair with his young female boss, played by Sara Gregory, even though she failed to promote him. The revolting Marcus, Fran's husband, decides it's OK to exploit the situation via some totally 'inappropriate physical contact'. And it isn't long before the vintage world they've created for themselves backfires. This is no retro-utopia. It's more like a jail.
Grab tickets fast – this great piece of stage entertainment is predicted to sell like hot cakes.
Starring
Katherine Parkinson
Playing at Duke of York's Theatre
104 St Martin's Lane, London, WC2N 4BG GB (venue info)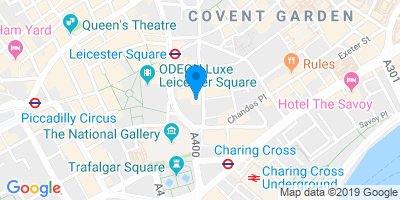 Directions
Performance Times
Home I'm Darling photos
Home I'm Darling video