No booking fee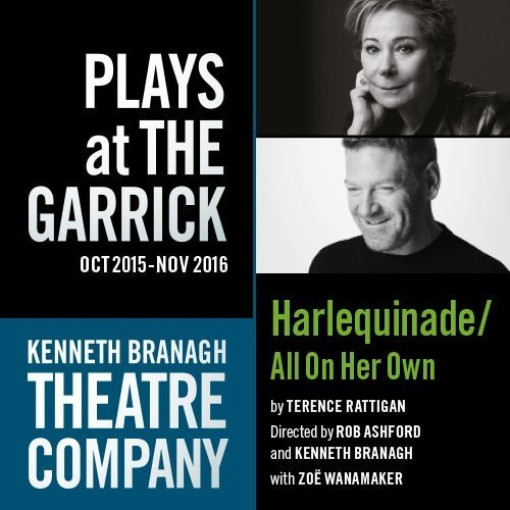 Harlequinade
4.8/5
based on 18 reviews
(read reviews)
Booking until: Wednesday, 13 January 2016
Harlequinade description
When a classical theatre company stages Shakespeare plays The Winter's Tale and Romeo and Juliet, a series of outrageous intrigues and secret romantic dalliances are revealed. The fallout is utter chaos: dramatic, hysterical and absolutely hilarious.
Kenneth Branagh himself stars in the play, a rarely-seen comic gem, which was first performed in autumn 1948 at London's Phoenix Theatre.
What's the story? One fatal evening the actor Arthur's world is torn upside down, just a few seconds before he's about to stride on stage to play the challenging role of Romeo. Until now he had no idea he was a father... but his daughter, a woman called Muriel, has just turned up.
More disturbing still, his hitherto unknown offspring has brought a child with her, presumably his granddaughter. The unfolding plot is a real theatrical triumph, a brilliantly funny one act masterpiece you won't forget in a hurry.
The plot kicks off at an opening night in Brackley, a town in the Midlands, on a Monday evening three years after the end of the Second World War. Arthur and his wife Edna are playing Romeo and Juliet, but Arthur is shocked to the core when he's confronted by a grown up daughter and a potential grandchild, and it completely puts him off his stride. How can he keep calm and carry on when his life is about to change forever?
Arthur is even more horrified when it turns out he's still married to Muriel's mother Flossie, which makes his marriage to Edna a bigamous farce. It's the first in a series of disasters that plague the production's first night, in Terence Rattigan's affectionate celebration of the nuttier side of the theatre world. Thank you, Mr Rattigan, for writing such a superb play!
Branagh stars in several central roles throughout the year-long season, supported by an all-star cast of theatrical luminaries. He both performs and co-directs this play in collaboration with artistic associate Rob Ashford, and it's on at the Garrick Theatre from 24th October 2015 to 13th January 2016.
Harlequinade tickets – A comic gem with Shakespeare at its heart
If you'd like to buy Harlequinade cheap tickets we sell the full range of seats, from low cost to the best in the house, all with great availability.
Starring
Kenneth Branagh
Playing at Garrick Theatre
2 Charing Cross Road, London, WC2H 0HH (venue info)
Directions
Harlequinade photos
Harlequinade cheap tickets
No booking fee
Tickets from £35.00
Valid Monday - Thursday performances until 12 January 2016
Important information
Ticket purchases will be limited to a maxium of six tickets per person across all performances. Tickets will be dispatched 2 weeks prior to the performance
Audio described performance - Thursday 15 December 2015 7.30pm
Captioned performance - Thursday 10 December 2015 7.30pm
Performance Times