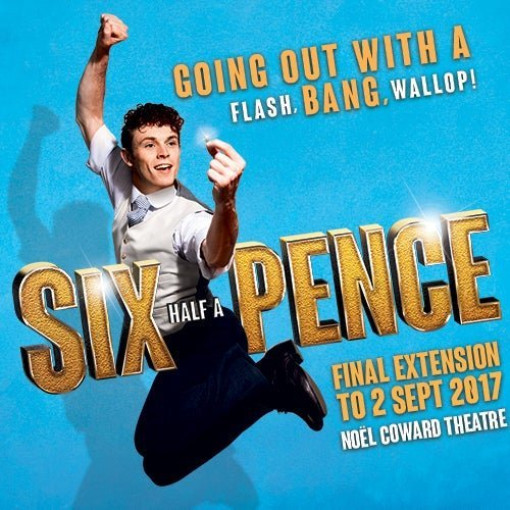 Half a Sixpence
4.8/5
based on 81 reviews
(read reviews)
Booking until: Saturday, 2 September 2017
Running time: 2 hours 45 minutes (One interval)
Half a Sixpence description
Inspired by H G Wells' semi-autobiographical book Kipps, The Story of a Simple Soul, this new version of Half A Sixpence sees the 1965 musical thoroughly re-imagined to bring it up to date.
The plot tells the tale of orphan and draper's assistant Arthur Kipps, a simple soul who inherits a huge fortune. Kipps climbs the social ladder, watched by his old childhood friend Ann Pornick as the beautiful and classy Helen Walsingham changes him beyond all recognition. Ann adores him, and it's obvious Helen does too. Who will he listen to?
Arthur eventually loses his fortune altogether. But thanks to his good friends he has learned that a happy life doesn't necessarily mean a wealthy one. He's finally realised you can't buy happiness, which delivers a satisfyingly happy ending.
The Chichester production was such a big hit that the entire cast is transferring to the West End. The delightful Charlie Stemp plays Arthur Kipps, Devon-Elise Johnson plays Ann Pornick and the three-time Olivier-nominated actor Ian Bartholomew plays Chitterlow. Last but not least, the three times Olivier-nominated Emma Williams plays the part of Helen Walsingham.
The production reunites the author Julian Fellowes with talented composers George Stiles and Anthony Drewe, and the musical score still contains several of David Heneker's original songs including stage favourites Flash Bang Wallop, Money To Burn and Half A Sixpence itself. The rest are brand new, breathing fresh life into a musical that has won hearts and minds for decades.
Sir Cameron Mackintosh himself is apparently absolutely thrilled that the new version of the iconic British musical has gone off with such a bang. The musical has proved extremely popular with audiences and critics, and managed to break box offices records in Chichester.
Theatreland's latest sensational new star Charlie Stemp, whose casting has been described as 'miraculous' by Sir Cameron, has bravely put his own unique stamp on the role, giving the part that launched Tommy Steele's international theatre and film career half a century ago a new face. It's proof that this delightful rags to riches (and back again) story never goes out of date, as relevant today as it ever was.
The revival is directed by Rachel Kavanaugh. Designs come from Paul Brown, the choreography by Andrew Wright and orchestrations by William David Brohn. Paule Constable is responsible for lighting, Mick Potter for sound and Luke Halls for video design.
Come along and see the latest version of a musical that was first produced in London's West End at the Cambridge Theatre in 1963, and has never lost its appeal.
Half a Sixpence tickets – A new kid on the theatreland musical block
If you'd like to buy Half a Sixpence cheap tickets we sell every type of ticket, from bargain to top of the range, all with excellent availability.
Starring
Charlie Stemp
Playing at Noel Coward Theatre
85-88 St Martin's Lane, London, WC2N 4AU (venue info)
Directions
Half a Sixpence photos
Important information
Please see below a list of dates that Charlie Stemp will not be performing in Half a Sixpence.
10th August 2017 (matinee)
14th - 16th August 2017
22nd August 2017
Performance Times
Similar shows
42nd Street
No booking fee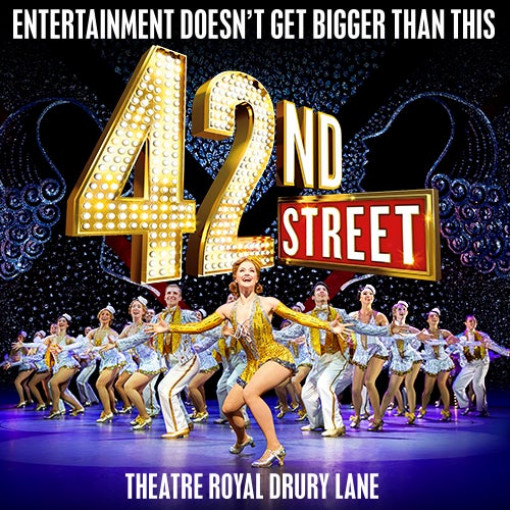 42nd Street
4.8/5
based on 357 reviews
Playing at:
Drury Lane Theatre Royal
Booking from: Monday, 20 March 2017
Booking until:
Thursday, 29 November 2018
Running time:
2 hours 30 minutes (One interval)
From

£15.00