Hadestown
5/5
based on 3 reviews
(read reviews)
Booking until: Saturday, 26 January 2019
Hadestown description
Welcome to Hadestown: The Myth. This awesome and highly unusual piece of musical theatre is actually the 2016 stage adaptation of the brilliant 2010 folk opera concept album of the same name by singer-songwriter-musician Anaïs Mitchell. It premiered off-Broadway at New York Theatre Workshop in 2016, enjoying a record-breaker of a run, then experienced another brilliant run at the Edmonton Citadel Theatre in Canada. After a stint at the National – aren't we lucky! - it'll be heading to Broadway for a long-awaited season, a clear sign of its wide appeal.
Directed by Rachel Chavkin, Hadestown weaves Anais Mitchell's excitingly fresh version of the ancient Greek myth of Orpheus and Eurydice. When summer ends and winter approaches, Eurydice is fatally attracted to the underworld town of Hades, where riches are promised, and Orpheus has to follow deep into the underworld to rescue her. Does the songwriter Orpheus succeed in his mythical quest to overcome Hades and regain the favour of his only true love? You'll have to come along and see.
This thrilling new work effortlessly blends modern American folk music with vintage New Orleans jazz to re-imagine an age-old story. Mitchell's mesmerising melodies and rich imagination bring the good fight to vibrant life: nature fights industry, faith fights doubt, and love beats fear. Performed by an international ensemble of actors, dancers and singers, this show is genuinely moving. Welcome to the magical world of what Vogue magazine is calling "your next musical theatre obsession"
The musical is produced in association with Mara Isaacs, Dale Franzen, Hunter Arnold and Tom Kirdahy, and was co-conceived by Ben t. Matchstick, the multi-talented artist, performer, writer, educator, theatre director and puppeteer. The New York Times calls Hadestown "Inventive. Beguiling. Luminous. Spellbinding". Variety magazine calls it "a stunning production" and Time Out New York calls it "something special".
The Set Designer is Rachel Hauck and the Costume Designer Michael Krass. The Choreographer is David Neumann and the Musical Director Liam Robinson. Lighting Design comes from Bradley King and Sound Design by Nevin Steinberg. The Arrangements and Orchestrations come from Michael Chorney and Additional / Co-Arrangements and Orchestrations from Todd Sickafoose.
What does Anais Mitchell herself say? In her words, "What you're hearing is more than a score, it's people moving, dancing, breathing, the improvisations of the band, and the audience responding in real time." The Hollywood Reporter also has great things to say, namely that the musical is "Terrific. The music is the thing in this exhilaratingly staged and performed show. Endlessly inventive and eclectic, as melodic as it is funky and folksy." If you like musical theatre with an edge, this one's for you.
Playing at Olivier Theatre (National Theatre)
South Bank, London, SE1 9PX GB (venue info)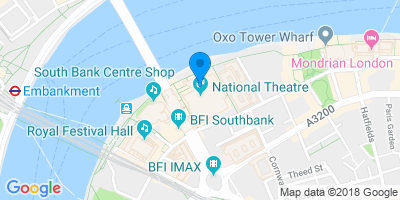 Directions
Important information
NO PERFORMANCES between
21/11/18 - 25/11/18
30/11/18 - 11/12/18
17/12/18 – 20/12/18
24/12/18 – 25/12/18
28/12/18 – 03/01/19
09/01/19 – 21/01/19
Performance Times