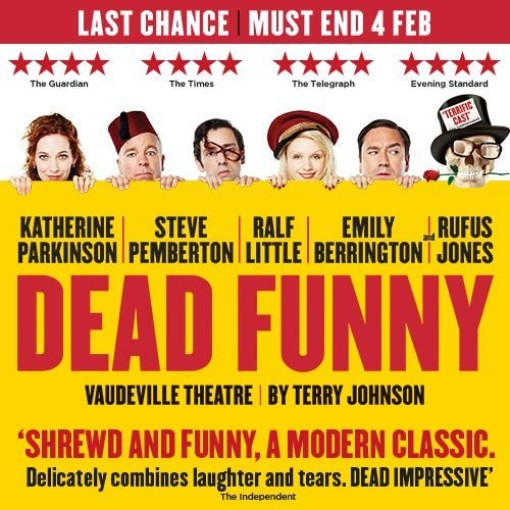 Dead Funny
4.1/5
based on 27 reviews
(read reviews)
Booking until: Saturday, 4 February 2017
Dead Funny description
What can you expect? Oh, it's all good stuff... nudity, violence, strong language and simulated sex peppered with Frankie Howerd impersonations and custard pie fights. The result is painfully funny, an outrageous play that delighted audiences the first time around and is set to do exactly the same this time. If your funny bone could do with some attention, it's perfect.
What's the plot? The setting is Islington, London. The year is 1992. The marriage of Richard and Eleanor is in trouble, going nowhere. She wants to have a baby. But Richard is far too busy running the Dead Funny Society, and the sexual therapy the couple is involved with just isn't being given the attention it deserves.
When two classic British comedy heroes, Frankie Howerd and Benny Hill, shuffle off their mortal coil in the same week, the society gathers to celebrate the great men's lives and work. But Eleanor isn't grinning. She's grimacing. A dead marriage just isn't that amusing, especially when so many skeletons – real and metaphorical - are being discovered in so many cupboards. The Dead Funny Society is big on jokes, and the puns are flying. But jokes about love and marriage don't seem funny to Eleanor when they're masking her and Richard's marital issues.
Terry Johnson's wonderful play is both 'painfully funny and funnily painful', according to The Times newspaper. It returns to the West End for a strictly limited season, a brand new and eagerly-awaited production. And it's on at the splendid Vaudeville theatre.
Dead Funny had its West End début at the Vaudeville back in 1994, having premièred at the Hampstead theatre. It was directed by Johnson himself and the original production starred Zoë Wanamaker, David Haig, Niall Buggy, Danny Webb and Beatie Edney. Wanamaker gathered plenty of rave reviews for her role, as did the rest of the cast, and the play won a well deserved Best West End Play Award from Time Out Award as well as being nominated for an Olivier award for Best Comedy.
This production comes with design by Richard Kent, lighting from Paul Pyant and sound design by John Leonard. It's presented by Nica Burns, Paula Marie Black and Emma Brünjes, and it's predicted to be a seat-filler, a play not to miss.
Johnson is well known and loved as a brilliant stage director and writer, and his plays have delighted audiences worldwide. He has won a grand total of nine British Theatre awards including the Olivier Award for Best Comedy in '94 and again in '99. He was Playwright of the Year in 1995, won the Critics' Circle Theatre Awards for Best New Play in '95, plus two Evening Standard Theatre Awards. And this play is a genuine comedy triumph.
Dead Funny tickets – You'll roar with laughter.
If you'd like to buy Dead Funny cheap tickets we sell every type of seat, from low cost to the best in the house, all with excellent availability and backed by excellent service.
Starring
Steve Pemberton, Katherine Parkinson, Ralf Little, Emily Berrington, Rufus Jones
Playing at Vaudeville Theatre
404 Strand, London, WC2R 0NH (venue info)
Directions
Dead Funny photos
Age restrictions
Suitable for ages 15+
Important information
Contains scenes of a sexual nature and nudity.
Performance Times
Similar shows
The Play That Goes Wrong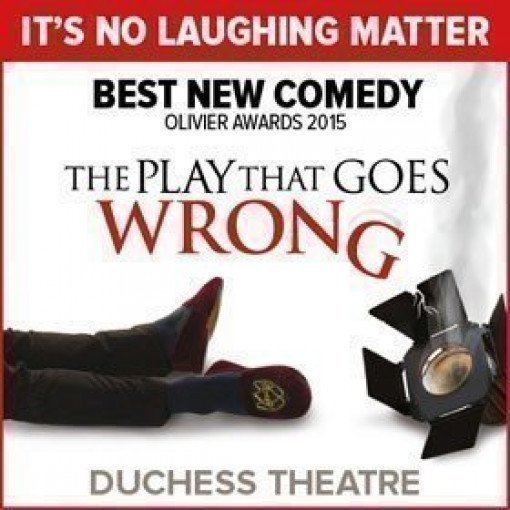 The Play That Goes Wrong
4.8/5
based on 950 reviews
Playing at:
Duchess Theatre
Booking from: Thursday, 4 September 2014
Booking until:
Sunday, 7 April 2019
Running time:
2 Hours 5 Minutes
From

£23.80