Full cast announced for X Factor musical: I Can't Sing!
by Oliver Mitford on Tuesday 14 January 2014, 3:04 pm in Cast Changes and Announcements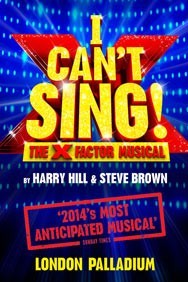 The full cast has been announced for I Can't Sing! The X Factor Musical, which is set to open at the London Palladium in March. Written by dotty comedian Harry Hill and with music by Steve Brown, the new musical is fast becoming one of the most anticipated shows of 2014.
Nigel Harman will play lead X Factor judge and music mogul Simon. Cynthia Erivo and Alan Morrissey will play the star-crossed lovers and contestants Chenice and Max.
Joining the bizarre judging panel will be Ashley Knight as band manager Louis, and Victoria Elliot as pop diva Jordy. Billy Carter will play Gerard Smalls, executive producer of the show and Simon's sidekick. Finally, Simon Bailey comes straight from The Phantom of the Opera at Her Majesty's Theatre to play X Factor host Liam O'Deary.
I Can't Sing! tells the story of Chenice, a young woman dreaming of stardom, but due to growing up in an ITV black-spot, has never heard or seen The X Factor. Persuaded to audition for the TV show by her new friend and wannabe rock star, Max, Chenice goes on the journey of a lifetime. The musical is rumoured to take digs at George Michael, Geri Halliwell, Coldplay, James Blunt and promises to lift the lid on what goes on behind the scenes on the ITV show!
I Can't Sing! The X Factor Musical opens at the London Palladium on 26 March 2014, with previews from 27 February.