I Can't Sing! The X Factor Musical is gearing up for its West End opening in 2014
by Oliver Mitford on Thursday 5 September 2013, 8:59 am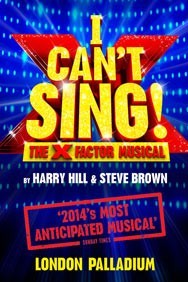 The brand-new musical based around the popular talent-search television programme The X Factor will open at the London Palladium on 26 March 2014. The show's creator is comedian Harry Hill, who has stated that the musical will not be just for fans of the ITV talent show, but for anyone with a sense of humour.
Surprisingly, X Factor creator and music mogul Simon Cowell is on board with the production and is even one of the musical's lead producers. When asked about his involvement in the production, Cowell said: 'I never thought the musical would materialise and when I went to the workshop, I was laughing so much I thought "we've got to make this show". I didn't want to do a musical we took too seriously – it's a fun show. The big thing for me was if the songs were good or not, but I get it in the neck throughout.'
The musical tells the story of Chenice, a young woman dreaming of stardom, but due to growing up in an ITV black-spot, has never heard or seen The X Factor. Persuaded to audition for the TV show by her new friend and wannabe rock star, Max, Chenice goes on the journey of a lifetime.
It has also been announced that television and West End star Nigel Harmon will take the role of Simon Cowell, while Cynthia Erivo, who won critical acclaim for her performance as Celie in the stage production of The Color Purple at the Menier Chocolate Factory, stars as the musical's lead Chenice. When asked about joining the show, Erivo said: 'Excited would be an understatement; it's a new adventure.'
The musical will take digs at George Michael, Geri Halliwell, Coldplay, James Blunt and promises to lift the lid on what goes on behind the scenes on the ITV show – including why Cowell wears his trousers so high…
I Can't Sing! The X Factor Musical opens at the London Palladium on 26 March 2014 with previews from 27 February.