Full cast announced for Women on the Verge of a Nervous Breakdown
by Oliver Mitford on Monday 3 November 2014, 10:42 am in Cast Changes and Announcements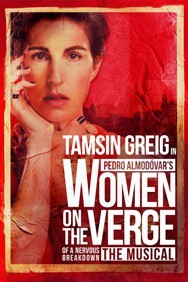 New musical, Women on the Verge of a Nervous Breakdown is due to open at the Playhouse Theatre on 20 December 2014, and now the full cast has been revealed.
Joining the previously announced Tamsin Greig will be star of Wicked, Willemijn Verkaik. The Dutch musical theatre star impressed audience this year as Elphaba in the West End production of Wicked, but had to leave the show due to ill health.
Having made a full recovery, she joins Hayden Gwynne, who starred opposite Helen Mirren in The Audience. The rest of the cast comprises Sarah Moyle, Hayden Oakley, Rebecca McKinnis, Marianne Benedict, Jerome Pradon, Anna Skellern and Richard Afonso.
Women on the Verge of a Nervous Breakdown is adapted from multi-award winning Spanish director Pedro Almodovar's Oscar-nominated film that premiered back in 1988. The musical is written and composed by David Yazbeka and Jeffery Lane, and tells the hilarious story of a professional film dubber named Pepa (Tamsin Greig), who finds out some sinister secrets about her lover. He lets slip that he is a married man and subsequently abandons her, with tragically funny consequences.
Women on the Verge of a Nervous Breakdown opens at the Playhouse Theatre in the West End from 20 December 2014 for a limited run of just 20 weeks; previews begin on 18 December 2014.