Review of The Wind in The Willows at The Vaudeville Theatre
by Phil Willmott on Monday 15 December 2014, 11:58 am in London Theatre Reviews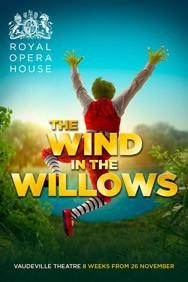 Kenneth Grahame's novel THE WIND IN THE WILLOWS is one of the undisputed masterpieces of children's literature. I've a long history with it, I loved it as a child, I've appeared in it as an actor and I've both directed it and adapted it since. Every time it's enchanted kids from every background and it's every bit as engaging in this latest revival of Will Tuckett's ballet commissioned by the Royal Opera House. Now enjoying its third Christmas revival it's fast establishing itself as festive West End tradition.
In the 1990s Alan Bennett adapted it for a rather arch but spectacular production at the National Theatre and there's a big, brand new musical in the pipeline by Julian Fellows, creator of DOWNTON ABBEY and Styles and Drew, the composer and lyricist team behind BETTY BLUE EYES and the new songs in Cameron Macintosh's MARY POPPINS, not to mention countless film and cartoon versions including a largely forgotten Disney outing. So what is its endless appeal?
It's enchanted kids from every background and it's every bit as engaging in this latest revival of Will Tuckett's ballet commissioned by the Royal Opera House.
The story is very gentle and in theory unfashionably tame. A humanised mole is distracted from his spring cleaning by a water rat who offers to take him on a picnic. They become firm friends and Mole goes on to meet the grandfatherly Mister Badger who enlists the pals in a scheme to tame a hyper active toad who's in danger of losing his ancestral home to some upstart stoats. He squanders his inheritance on a series of quickly discarded fads, especially motoring which lands him in jail from where he escapes disguised as a washerwoman, via a steam train, to reclaim Toad Hall.
It's all played out in a rural idyll which encompasses Christmas and the glorious summer days we remember from childhood. Add a supporting cast of field mice and silly rabbits and it's an irresistible formula that makes everyone who reads or watches a dramatisation go all gooey. Not too long ago I watched a young cast of tough inner city kids blossom playing the animals, unexpectedly unfazed by the old fashioned nature of the story and the Edwardian world it's characters inhabit. Is there something in all of us that longs to be a cute little creature playing in the sunshine?
I'd have thought that a cast of skinny ballet dancers would struggle to create the necessary cuddliness but the cast at the Vaudeville Theatre this Christmas do just fine and we're soon under the spell once more. I'm not quite sure what ballet adds to the mix, especially in this production when the narrative is conveyed, not through dance but by TV gardener Alan Titchmarsh as Kenneth Grahame, a narrator figure, whilst everybody regularly threatens to burst into song. Just do a musical I say but there's no denying that the athletic exploits of the lead characters portrayed through ballet enthralled the young audience with whom I shared the evening.
The credits ooze with class. The text has been adapted by poet Andrew Motion and the set design is by the Brother's Quay who's ingenuity and flare have graced a number of huge international opera hits. The team set this production in Grahame's attic, amongst the shadows of towering old furniture from which the animal characters emerge and which form scenery for the story in a standard fringe theatre way which, none the less, gets everyone excited when the aesthetic is exported to the West End. For instance, the back of a gigantic chair becomes Toad's prison cell very much as we might have enacted the scene when kids ourselves.
Joining the cast on stage are a series of very beautiful puppets designed by Toby Ollie, for instance a terrifying and looming judge in the court scene and some really vicious looking weasels. The main characters are, for the most part, in human clothes but with added make up and wigs to suggest their animal qualities.
Take the whole family for a guaranteed Christmas treat!
Titchmarsh is a delightful fatherly presence and his warm mellifluous voice is the perfect instrument for transporting us to a kinder, sweeter time. Sonya Cullingford is very loveable as mole, Martin Harvey's is dashing as Ratty and Cris Penfold as Toad, in a bright queen green wig and checked trousers, represents the naughty child in all of us.