War Horse - Show of the Month
by Oliver Mitford on Monday 2 September 2013, 9:19 am in Show of the Month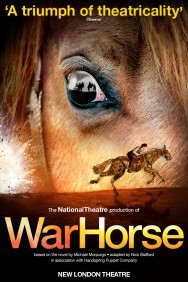 The toast of the West End! War Horse will gallop away with your hearts and imaginations...
Now in its fifth year at the New London theatre on Drury Lane, War Horse has become the poster-boy for London's West End theatre. Now with permanent productions running in New York, Germany, Canada and Australia along with national tours of the US and UK and a blockbuster film adaptation by Steven Spielberg. With a whole host of five-star reviews and awards to its name, War Horse keeps audiences coming back time and time again to experience the simple but beautiful story of a young boy and his beloved horse Joey.
The production started life at the National Theatre Studio, where a series of workshops were held to test the practicality of staging a story where the main character happens to be a horse! Soon afterwards, a full-scale production was commissioned involving the now legendary Handspring puppet company, brought in to create the incredible life-sized horse puppets that can be seen on stage today.
Get your hands on top price tickets from £59.50 with no booking fee!† Book now. War Horse tickets

Adapted by Nick Stafford from Michael Morpurgo's acclaimed 1982 children's book of the same name, War Horse opened in the Olivier Theatre at the National Theatre on the 17 October 2007. The show was a huge success, receiving high praise from audience and critics alike. Due to such a high demand for tickets, the production was brought back for a second run on the 10 September 2008. Now the word was out and a West End transfer was scheduled for March 2009 with the official opening on 3 April. To date, War Horse has won five Tony Awards and two Olivier Awards.
Set amongst the horrors of World War 1, War Horse tells the moving story of a young Devonshire boy named Albert Narracott who raises a foal to adulthood, naming the horse Joey. At the outbreak of war, Albert's father sells Joey to the British cavalry, whereafter he is shipped to France to fight against the Germans on the front line. All seems lost, as Albert believes he will never see his friend again. However, managing to successfully lie about his age, Albert enlists in the infantry and journeys to France to search for his beloved horse. But in the face of bloodshed and misery, can Joey find his way back to his loving master? A story of survival and friendship that transcends species, War Horse certainly packs an emotional punch.
The entire story is played out on a dark and sparse stage designed by Rae Smith, who utilises Paule Constable's angular and dramatic lighting design to paint the pictures of the varying locations, from a sunny field in Devon to the claustrophobic trenches of the Western front. Smith cleverly leaves space for the real stars of the show – the puppets. Designed by Adrian Kohler and Basil Jones of Handspring Puppet Company, the to-scale horse puppets with their flanks, hides and sinews built of steel, leather and aircraft cables, gallop, trot and even flick their ear to the command of the puppeteers. After a few moments, the audience completely yields to the magic and theatricality of the puppets, creating for them real horses on stage. This connection to the puppets as real breathing animals was evident in the final climatic moments of the play, when death seems close at hand for one of the horses, cries of sadness and shock could be heard coming from the depths of the auditorium.
It is not only horses that are brought to life, but geese, crows and even a German tank! The inventiveness of the choreography needed to breathe life into these inventions of steel and wire is quite astounding, as is the detailed craft and well-observed execution by the actors controlling the puppets.
Co-directors Tom Morris and Marianne Elliott have perfectly judged the fine balance between elegantly moving and overly sentimental, never once stepping over that line. Each moment is excellently pitched, quietly pulling at our heartstrings until all we care about is Albert and Joey's survival. They successfully evoke the grim reality of life on the front line during World War 1 and transport the audience with the clever use of sounds, such as machine gun fire, mortars and deep base notes that reverberate around the theatre.
The entire cast of actor/puppeteers are very strong, but in particular Sion Daniel Young's portrayal of Albert Narracott as a simple but intensely passionate young man, who would go to hell and back for his friend Joey, was a measured performance that belies his years. He might be one to look out for in the future…
War Horse is now a global phenomenon due to the skill and imagination that has gone into its creation. It is especially pleasing to see that the same dedication and craft has gone into its delivery night after night at the New London Theatre.
---
Terms and Conditions
†War Horse no booking fee offer. Ticket offer valid Monday – Friday and Thursday matinee performances from 01 September 2013 to 25 October 2013 only. Tickets must be booked by 30 September 2013. Subject to availability. Early booking is recommended. For hotel and restaurant package terms and conditions, please click through to the website.