War Horse gallops to the end of a triumphant eight years in the West End
by Oliver Mitford on Monday 5 October 2015, 3:31 pm in West End News & Gossip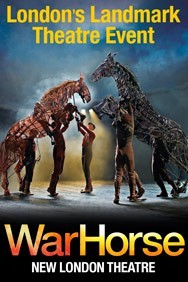 The National Theatre's worldwide smash-hit stage adaptation of Michael Morpurgo's beloved book War Horse has announced that it is due to close at the New London Theatre in March 2016.
War Horse has been wowing audiences in the West End for an astounding eight years and has won over 20 coveted awards. When the show plays its last performance on 12 March 2016, it will have been seen by an incredible 2.7 million people in the West End.
Nick Stafford's adaptation started life out at the National Theatre Studio, before going on to Olivier stage at the National Theatre. Directed by Tom Morris and Marianne Elliot, War Horse is set during the horrors of the First World War and tells the story of a young boy named Albert and his un-breakable bond with his horse Joey.
War Horse contains life-size horse puppets by the now famous South African puppet workshop and theatre company, Handspring. These puppets have helped earn the production a cult following across the globe, with audiences traveling from all-over the world to experience the moving and magical play.
Chris Harper, the lead producer of War Horse said in a statement, 'War Horse has wowed audiences around the world, and we are incredibly proud of what the show has achieved over the last eight extraordinary years'.
War Horse is now regarded as the most successful play in the National Theatre's history and audiences can still catch the production on tour across the UK, kicking off in autumn 2017.