Urinetown Review
by Oliver Mitford on Tuesday 25 March 2014, 3:18 pm in London Theatre Reviews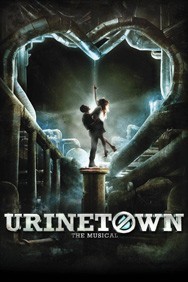 Jamie Lloyd's inventive production has its tongue planted firmly in its cheek at the St James's Theatre.
It is surprising how long it has taken for this Broadway musical to make it across the pond to the West End. Urinetown opened in The States back in 2001 and ran for a hugely successful three years.
There were whispers of a possible transfer of that production, but nothing ever materialised. So when it was announced that director Jamie Lloyd would be mounting a new production of the Greg Kotis and Mark Hollman dystopian musical comedy at the St James's Theatre, interest was ignited for many reasons.
The first is that the venue of choice is an incredibly intimate space, seating just over 300 people. The second is that Lloyd was hired to direct straight after his success with the Trafalgar Transformed season and new musical The Commitments still running to sell-out audiences at The Palace Theatre. This combination of venue and director has raised the bar for smaller-scale musical theatre.
...a strange mix of potent political satire and gloriously juvenile parody that makes for a hilarious evening that packs a serious intellectual punch.
Set in a dystopian future, Urinetown centers on a chronic water shortage that leads to the abolition of personal toilet facilities. If you need to 'spend a penny' in this world, your only option is to use the privatised facilities that will set you back more than a penny. In fact, most of the population needs to scrape together all their savings just to pee and avoid being sent to the terror-inducing 'Urinetown' for relieving themselves in public.
Desperate queues form outside the archetypal 'Amenity Number 9', whose young and dashing cleaner Bobby Strong (Richard Fleeshman) is suddenly radicalised by the arrest and abduction of his father for peeing in public. This chisel-jawed 'everyman' leads a rebellion against the toilet corporation and its boss Caldwell B. Cladwell (Simon Paisley Day) by kidnapping his daughter, the aptly named Hope (Rosanna Hyland), but can the oppressed people fight the corrupt system and win?
The irony of a US musical attacking widespread exploitation, unsustainable living and corporate greed is not lost on the audience in London, but Urinetown is more than a piece of political theatre; it is self-referential comic bliss to boot. The show is narrated by a sinister Brooklynesque cop played by Royal Shakespeare company regular Jonathan Slinger who, while on the payroll of the malevolent co-operation, points out directly to the audience the absurdities of the musical's very form in which he is a part. A piss-take in every sense of the word!
Kotis's book and Hollmann's score also give constant nods to the popular musical genre, with pastiches of Bertolt Brecht and Kurt Weill socialist anthems, Sister Act-style gospel numbers, even glimpses of rousing romantic song reminiscent of Les Miserables.
Director Jamie Lloyd has invested the constant mockery with copied images from the iconic productions, such as a chorus of Brechtian characters complete with placards and banners. There is even some flag-waving on a battlement to echo Les Miserables' heroic ending. Lloyd could have very easily plundered much more from these sources, but his ingenuity lies in just picking out the ones that sit in the collective consciousness of the audience, the ones that are now part of our popular culture.
One might think that this parodic tone would obscure the seriousness of the message; on the contrary, it serves to make visible the big issues being explored. The question of financial extortion in times of hardship sometimes seems so outrageous that many people don't see it happening before their very eyes. What Urinetown does is to show the situation in all its absurdity and outrageousness and, in doing so, elucidates the real motivation behind it all: greed.
The casting director for this production deserves an award, if only there was one!
The casting director for this production deserves an award, if only there was one! Each of the principle characters is given such vitality and dimension by the actors. Simon Paisley Day literally towers over the others as Caldwell B. Cladwell, spitting venom with maniacal glee. Jenna Russell gives a master-class in feigned sincerity as Penelope Pennywise, at one joyously funny moment, entering the resistance's hideout draped in a scarf reminiscent of Meryl Streep in The French Lieutenant's Woman.
Jonathan Slinger brings a touch of the classical to his menacing Officer Lockstock, complete with swinging truncheon and hunchbacked gait. Richard Fleeshman strikes the typical leading man figure, almost bursting out of his vest and boiler suit. Newcomer Rosanna Hayland makes for an enigmatic leading lady, playing up to the self-conscious form with great wit. The supporting cast of misfits are reminiscent of a Victorian freak show, individually grotesque and full of buoyant energy.
Set designer Soutra Gilmour has once again returned to Jamie Lloyd's side after their collaboration on The Commitments. Her dank sewer-like set, full of twisting pipes and dripping faucets effectively places the audience in the grimy world of Urinetown. Lloyd uses the small stage well, splitting the action over two levels to maximise the space.
Similarly the inventive choreography by Ann Yee manages to keep the movements fast and dynamic, while containing the dances to the small stage area. The extra excitement of Urinetown for the audience comes from being so close to the action on stage, as the steeply raked auditorium places people never more than a few metres away from the actors.
Urinetown is, in essence, a strange mix of potent political satire and gloriously juvenile parody that, when put together, makes for a hilarious evening that packs a serious intellectual punch.
Urinetown runs at the St James's Theatre until 5 May 2014.