Review of Urinetown
by Phil Willmott on Wednesday 15 October 2014, 12:09 pm in London Theatre Reviews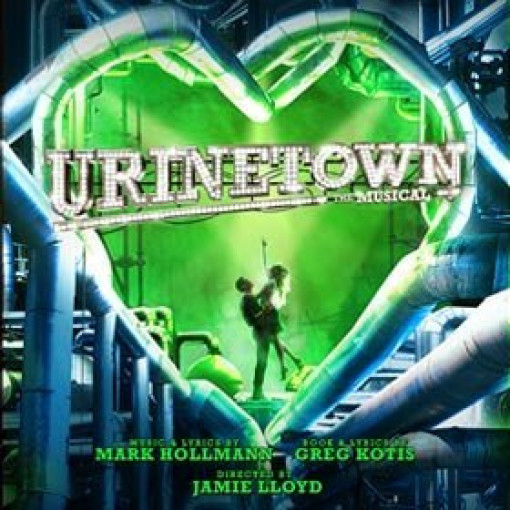 I really disliked this musical when I reviewed it in its original incarnation at the St James Theatre on the fringe, although it may have been coloured by the "think-yourself-lucky-we're-giving-you-one-ticket-to-our-cult-hit,-you-lowly-scum" attitude there. It's now transferred to the West End and things are a little more relaxed so it was an ideal opportunity to take a fresh look.
Originating on Broadway it's a metaphorical story of a world where revolutionaries must fight a big corporation for free use of toilet facilities during a water shortage. The evil capitalists have the police dispatch anyone peeing for free to an ominous place called Urinetown. It's also a pastiche of musical theatre which lures you into enjoying it's fun, conventional score then undermines this by poking fun at it and your response.
It's a fantastic production directed by Jamie Lloyd with a fantastic cast including Jonathan Slinger as a cop who acts as our hard ball narrator explaining things to Karis Jack as a wide eyed kid caught up in the story and discussing how musicals work. Matthew Seadon-Young plays the muscled, achingly cute revolutionary leader, Rosalind Hyland is his love interest, the daughter of evil capitalist (or is he?) Caldwell B Caldwell portrayed with snarling relish by Simon Paisley Day. Day is one of our finest actors equally at home playing leads in Shakespeare, Joe Orton, Noel Coward and now musicals. Jenna Russell gives a star turn as the chain smoking, broken down and viscous custodian of one of the towns less salubrious conveniences and Cory English raises the roof as our hero's desperate dad and a cut throat wielding anarchist. Julie Jupp is the ever hopeful mum enthusiastically embracing the new culture of protest.
It's all played out in a giant sewage pipe cleverly designed by Soutra Gilmour who gives the costumes a sort of retro look reminiscent of Terry Gilliam's film Brazil (the great granddaddy of comic dystopian visions and the one to beat) Adam Silverman lights everything exquisitely in suitably pale and sickly colours.
I should report that the audience loved it. Roaring with laughter and breaking readily into enthusiastic applause.
However, try as I might I still don't trust or warm to the piece, with music and lyrics by Mark Hollman and book and lyrics by Greg Kotis.
It seems to me they've written a very serviceable musical comedy but realised it's nothing out of the ordinary and souped it up excusing everything as mockery and tacking on a bit of philosophy to legitimise it.
This has given it license to employ creaking old tricks like an act two gospel number (all be it a very fine example of the genre which goes way back to Sit Down Your Rocking the Boat from GUYS AND DOLLS) because it acknowledges it's corny.
Gospel numbers in musicals are corny but they work as show stoppers, it works in this show too so why disparage this along with any passion and sentiment the characters display?
The writers purport to want us to care about environmental issues but then they chicken out by sneering at everything. It's like two hours of listening to someone being sarcastic about things you care about. After a while I longed to say to the writers "Ok, if you don't admire the power and conventions of musical comedy that you clearly relish, if you don't think people should be passionate about freedom and power of love, what do you stand for?"
There's no denying the intelligence of everyone involved and it's great to see brainy musicals in the West End but if all that intelligence is simply harnessed to sneer at the shows we all love and people who stand up for their beliefs, their loved ones and the future of our planet then it's rather depressing.
I have no hesitation in recommending URINETOWN based on the enjoyment of the audience around me and the significant cult following it's attracted since it premièred in New York in 2001.
I would however recommend you question any claims that it's doing anything fresh and significant with the musical theatre form. It's simply sneering at it. Musical's like Green Day's AMERICAN IDIOT manage to make a serious point whilst also bringing something original to the table. URINETOWN, enjoyable though many people find it, falls far short of that.