Top Hat Review
by Oliver Mitford on Monday 17 June 2013, 1:16 pm in London Theatre Reviews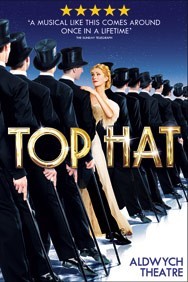 Top Hat proves to be an evening of comedy gold mixed with dazzling Hollywood glamour at London's Aldwych Theatre.
When rock and pop just won't cut it, what you need is a good old dose of nostalgia and frivolous entertainment. The stylish West End musical Top Hat delivers just that as it sweeps you away on a trip down memory lane to a time when everyone dressed to impress and tap dancing in a top hat and tails was the done thing. Having just won three Laurence Olivier awards, including Best New Musical, and now the receiver of the Evening Standard 'Best Night Out' award, it seems to be a favourite with audience and critics alike.
Based on the iconic and much-loved 1935 RKO film, staring Hollywood legends Fred Astaire and Ginger Rogers, this stage version takes all of Irving Berlin's greatest hits from the movie such as 'Cheek to Cheek', 'Lets Face the Music and Dance', 'Puttin' on the Ritz' and, of course, 'Top Hat, White Tie & Tails'. As the dances build and the wisecrack jokes come thick and fast, you really are whisked away to the golden era of 1930's Hollywood song and dance.
Following the film's original story by lan Scott and Dwight Taylor, this screwball musical comedy follows the misadventures of Jerry Travers (Gavin Lee), a famous Broadway performer, as he woos swish model Dale Tremont (Kristen Beth Williams). However, as with all best-laid plans, things spiral out of control as Tremont mistakenly thinks that her romantic pursuer is actually theatre producer Horace Hardwick, husband to her friend Madge. As the story unfolds, the audience is taken from the stage of a 1930's West End show to a swanky Belgravia hotel, through Regent's Park and climaxing in sunny Venice.
Hildegard Bechtler's art deco set design seamlessly folds out and concertinas back to reveal location after location. We are even treated to a scene aboard a twin-prop aeroplane that flies our hero and friend off to Venice in search of the fairer sex. The combination of Bechtler's design and Bill Deamer's skillful period choreography transports the audience instantly to the 1930s. This clever collaboration is clearly evident in every scene transition as the cast dance and interact with the set, making the whole changeover seem like a fluid part of the story.
Credit must go to director Matthew White for pulling the production together so economically and elegantly, but where his stamp can clearly be seen is in the laugh-out-loud comedy moments. At the start of the first act, we are introduced Bates, the creepy butler (played with mischievous glee by Stephen Boswell), who simply crosses the polished marble floor of a hotel library; but with every step comes the loud squeak from his shoes – ensuring the audience are blue in the face from snorting and cackling. These little touches of slapstick and silent reactions from characters, although delivered with the slightest of touches, get the biggest laughs of the night.
Fred Astaire and Ginger Rogers are a pretty hard act to follow, but Gavin Lee and Kristen Beth Williams do a good job at matching the famous pair, although the on-stage chemistry between the two actors does leave a little to be desired, especially in their more intimate moments. However, you can't fault their singing and dancing abilities: in this respect they match Astaire and Rogers step for step. Lee nimbly skips across the stage as though he were on hot coals and Williams seems to glide around so effortlessly, one would be forgiven for thinking she was on roller-skates! One of the final numbers, 'Cheek to Cheek', sees the whole cast take to the stage for the ballroom dance and turn the floor into what appears to be an ice rink, such is their effortless grace.
In the current climate of economic doom and gloom, people must find a way to release themselves from recession's icy grip, even for just a few short hours – and Top Hat will do just that. You cannot help but be uplifted by the vintage charm of this musical and be transported back to a time when money was no object and having fun was all that mattered. If only that were true of real life.