This Week across London Theatre
by Phil Willmott on Thursday 9 July 2015, 9:51 am in Theatre News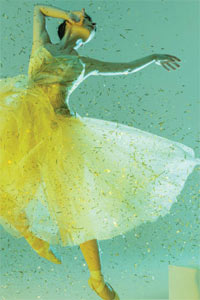 It's been rather a mixed bag this week. As predicted I had a wonderful time at Coliseum Theatre in the West End last night watching clever Christopher Wheeldon's new ballet of Cinderella with music by Prokofiev (A favourite composer of mine) It's full of imaginative narrative touches, a tree grows over Cinderella's mother's grave from which all magic emanates, the step mother is a drunk and one of the step-sisters even finds happiness and love! There's a fun back-story for the Prince and his best friend too. The dancing is exquisite, the dancers beautiful and the production values eye-popping. BUT IT'S ONLY ON UNTIL SATURDAY! Book today!
It's hard for anyone to relish an evening in a small, hot, airless room above The Arts Theatre, off Leicester Square but if you brave the sauna-like conditions and settle in to watch a revival of the hit American review I LOVE YOU, YOU'RE PERFECT, NOW CHANGE you're in for a treat. Four performers play out a series of songs and sketches exploring the quirks of modern heterosexual relationships. It's one of Off-Broadway's longest running shows but a West End revival sunk after a critical mauling. I directed a more successful off-West End revival a few years later (set at closing time in a restaurant) and now Kirk Jameson takes up the challenge, efficiently recreating the original, very simple, low, low-budget NYC staging with typically witty choreography from Sam Spencer-Lane. The cast, Julie Atherton, Simon Lipkin, Gina Beck and Samuel Holmes (four talented, good looking young West End veterans) are superb. It does feel a little dated and it's a tad too cozy but it's well worth catching these performers on top form.
---
I was mystified by Hang at the Royal Court. It's a 70 minute play written and directed by Debbie Tucker Green and starring Claire Rushbrook, the lovely Shane Zaza (who I've directed in the past) and Marianne Jean-Baptiste. She plays an unnamed woman engaged in a linguistic cat and mouse game with two social worker types debating a suitable punishment for the offstage perpetrator of a horrific but unspecified crime. Tucker Green is angry about something but as this situation never arises in real life I'm not sure what and why. The staging and performances are first class but I think there's better more thought-provoking and relevant theatre out there for you to spend your money on.
---
At the Union theatre in Southwark up and coming director Ricky Dukes has staged an all female production of Shakespeare's play of war and machismo, Henry V. With the success of our women's team in the male dominated world of international football it promised to be a resonant and relevant comment on gender politics. I'm sorry to report it's an endurance test even in this heavily cut version. As usual Dukes is great at bold, simple, vivid stage pictures but I wish he'd learn to get stronger performances from his actors. Perhaps it's a question of taste. I like my Shakespeare to be human and naturalistic with actors reflecting the nuance of their status, history, situation, their objectives and what's at stake. I just cannot understand why an actor, given such a fantastic and rich text would just rattle everything off at the same pitch and tempo throughout. It's a deeply frustrating experience.
---
I've previously advised caution over taking "exclusives" on the whatsonstage website too seriously. Earlier this week they reported on a West End transfer of Southwark Playhouse's excellent production of feel good Hispanic musical, In the Heights. This morning it turns out by "west end" they mean the site specific space at Kings Cross that's currently home to The Railway Children. It'll still be well worth catching though and will certainly be better than if it were to get swallowed up by a cavernous major venue.