The Weir Review
by Phil Willmott on Tuesday 28 January 2014, 1:51 pm in London Theatre Reviews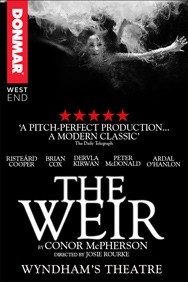 Wonderful to get a chance to see Conor McPherson's spooky little play The Weir at the Wyndham's Theatre. For some reason I missed its previous sell out runs at the Royal Court & at the Duke of York's in 1997 and this brand new production at the Donmar. Now it's back where it should be, in the heart of the Theatre Land.
Running at 1 hour 45 minutes it's the perfect start to a West End night out leaving you plenty of time for dinner afterwards when you'll certainly want to discuss the powerful story.
On the surface it's very simple. We're in a dilapidated pub in rural Ireland, beautifully realised by designer Ton Scutt so that you can almost smell the stale beer and cigarettes.
Hunky bar man Brendan, played by Peter MacDonald, presides over a rag-bag of regulars. Hollywood actor Brian Cox (the first Hannibal Lecter in Man Hunter) plays the shuffling garage owner Jack, a man who exudes loneliness from every pore, Riseteard Cooper plays a local business man made good and most enjoyable of all Ardal O'Hanlon from TV's Father Ted plays the emotionally stunted, painfully shy Jim. If you're a Father Ted fan there's plenty of the awkward idiocy of Father Dougal in O'Hanlon's performance.
The first section of the play gently introduces these miss-fits who are then on their best behaviour as an attractive female arrives, classy Dervla Kirwan as Valerie, a newcomer to the community. There's lots of fun to had from watching the men trying to appear sophisticated. A request for white wine throws them into a tailspin and she ends up with a warm pint of it from unworldly Brendan, who's forced to dig out a bottle from unwanted Christmas gifts.
But the play really gets going when the characters are drunk enough to start telling ghost stories. Each character contributes as the tales get increasingly chilling until Valerie trumps them all with a real shocker.
It's all delicately directed by Josie Rourke who wisely stops the evening tipping into Gothic Horror by keeping things light enough that you recognise the real terror is the loneliness that blights these people's lives. The sting, when it comes, is all the more gripping because of this.
So why not drop in on this little corner of Ireland, conveniently recreated for you on the Charing Cross Road!
Wyndham's Theatre, London, January 22-April 19
Author:
Conor McPherson
Director:
Josie Rourke
Producers:
Donmar Warehouse, Playful Productions, Arielle Tepper Madover, Tulchin/Bartner Productions
Cast:
Brian Cox, Peter McDonald, Ardal O'Hanlon, Risteard Cooper, Dervla Kirwan
Running time:
1hr 45mins