The Play That Goes Wrong extends booking!
by Oliver Mitford on Monday 27 October 2014, 2:40 pm in West End News & Gossip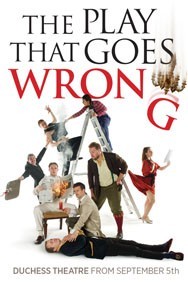 Hilarious and irreverent comedy The Play That Goes Wrong has extended its booking period at the Duchess Theatre, due to a phenomenal demand for tickets!
The production transferred to the Duchess Theatre last month and received riotous public and critical acclaim, following a sell-out tour of the UK. The Play That Goes Wrong is now booking until 16 September 2015.
The show started life at a small Fringe venue in North London, the Old Red Lion, then going on to transfer to the Trafalgar Studios before setting off on the hugely successful UK tour.
The Play That Goes Wrong is what the title suggests – a play that goes drastically wrong in every way imaginable. The premise of this send-up concerning all things theatrical is that 'The Cornley Polytechnic Drama Society' is putting on a classic murder mystery play, but they are not the most competent bunch of players and one disaster leads to another, as they struggle to make it to the end of the play without a fatal accident.
Directed by Mark Bell and designed by Nigel Hook, The Play That Goes Wrong stars Nancy Wallinger, Rob Falconer, Dave Hearn, Charlie Russell, Jonathan Sayer, Henry Shields, Henry Lewis and Greg Tannahill.
The clever front of house design that covers the facade of the Duchess Theatre is a clever indication of what is in store for the audience, as the words and images are all wrong, misplaced or worse, made into a rude spelling. So much like the show, everything that could go wrong, has!