Tell Me On A Sunday Review
by Oliver Mitford on Wednesday 26 February 2014, 12:23 pm in London Theatre Reviews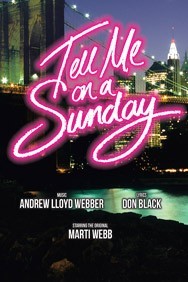 Marti Webb makes an emotional return in one of Andrew Lloyd Webber's greatest works.
Thirty-four years ago, a young fresh-faced woman took to the London stage to perform 'The Girl' in Andrew Lloyd Webber and Don Black's honest and searingly truthful one-woman musical – Tell Me On A Sunday. Newly triumphant from Evita, Marti Webb was an instant hit with both the public and critics, going on to bag a top three single with Take That Look Off Your Face.
Since then, Tell Me On A Sunday has gone around the globe and back, undergone numerous rewrites and lyric changes. There have even been revivals with the likes of Faye Tozer (from Steps fame) and Denise Van Outen. But not one of these, as brilliant as they may have been, is a patch on Webb's interpretation and performance. Despite the fact that Webb created the role three-and-a-half decades ago, she still is the naïve young woman who stands alone in the spotlight, learning life's lessons the hard way.
Tell Me On A Sunday charts the course of a young English girl's life in the hostile and loveless New York City of the 1980s. This needy young thing is seemingly incapable of being single and thus is thrown from one failed relationship to another. We are taken through the start and end of each relationship, embellished by letters home to her mother, which give an insight into the internal workings of this fragile woman.
Webber and Black's songs are cleverly placed throughout the evening, pinpointing the emotional highs and lows of this woman's journey of self-discovery. Seen through the lens of our modern-day thinking and with a feminist hat on, the show feels incredibly dated and, at points, downright misogynistic. However, if viewed as a historical piece with all the social and political trappings of the early 1980s, it is almost a feminist battle cry – showing just how far we have come and with the message 'let's never go back to that, please!'.
For this reason, Tell Me On A Sunday may prove problematic viewing for audiences of a younger generation with little knowledge of the gender barriers and 'glass ceilings' of that time. But for an audience conscious of our evolutions in society, this un-updated revival will prove both intelligent and moving.
Marti Webb gives her all, creating a smooth blend of comic moments that spill into tragedy. Her pared-back and exposing delivery of the tile song 'Tell me on a Sunday' is heart-wrenchingly moving. The desperate 'Come back with the same look in your eyes' is delicately performed, never once spilling over into sentimentality. Webb employs this same clever nuance for 'I'm very you, you're very me'. Webb's only ally on stage is a handful of props and Simon Lee's faultless seven-piece band. You can see the years of experience simply radiate out of Webb on the stage of the Duchess Theatre, her iconic roles in Cats, Oliver!, Godspell and Evita seem to have polished and refined this star of musical theatre.
The simple set design by Humphrey McDermott evokes the aspirational world of the 1980s and matches the no-frills simplicity of the staging, allowing Webb to just inhabit the space and tell her story. Matt McKenzie's sound design helps to transport us to the hustle and bustle of New York City, but it is the moments of silence that he creates before and after certain numbers that really gives them an emotional punch to rival a heavy-weight boxer.
Don Black has chosen not to update the lyrics, thus keeping the show fixed in the past, but it is this precise feeling of nostalgia that colours so much of the story and adds to the sad and reflective quality of the evening. Thankfully, in the final moments, 'The Girl' whom we have followed through the good times and the bad, realises that she may not need a man to make her happy – a thought that seemed to strike a chord with the audience, as it was received with a thunderous round of applause. And they said feminism was dead!
Any fans of Andrew Lloyd Webber's soaring anthems and witty trills will adore this evening of simple musical theatre. Tell Me On A Sunday may not be for a younger audience, but those old enough to remember the 1980s will lap up the cultural references and take a poignant trip down memory lane.
Tell Me On A Sunday is currently playing at the Duchess Theatre in London's West End for a very limited run until 8 March 2014.