Sunny Afternoon extends at the Harold Pinter Theatre
by Phil Willmott on Wednesday 15 July 2015, 8:58 am in Theatre News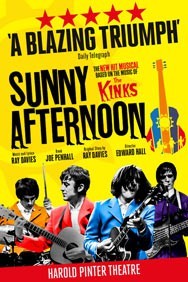 It's recently been announced that the joyful juke-box musical, Sunny Afternoon, has extended its West End run. It has music and lyrics by Ray Davies but most importantly, and a key part of it's success, is that it has a great script by a proper playwright, Joe Penhall.
Juke-box musicals, based around existing hit songs which are then placed into a story, were once sloppily and cynically thrown together but the number of shows in recent years which are written by important playwrights and staged by major directors has meant that we now have quite a few long running hits, like Sunny Afternoon, Mamma Mia and Jersey Boys, that are quality theatre too.
Sunny Afternoon tells the story of English rock band The Kinks and features a number of their popular hits including "Lola", "Waterloo Sunset", "You Really Got Me" and the musical's title song, "Sunny Afternoon".
Set in the 1960s the musical chronicles the early years of a rock band (the Kinks).
Initially unsuccessful the band's lead guitarist Dave Davies then creates a distorted power chord sound for the group's third single, "You Really Got Me'". written by his older brother Ray. It goes to No 1 in the UK charts and a string of hits follow. There's conflict in the story too, sibling rivalry, management problems, a sister's death, Ray's doomed marriage and the band's dispute with the musicians' union in the USA.
It's got a terrific young cast and it's all cleverly and evocatively staged by acclaimed TV and theatre director Ed Hall.
Booking until April 2016.