The Kinks musical, Sunny Afternoon extends run in the West End
by Oliver Mitford on Monday 2 February 2015, 10:13 pm in West End News & Gossip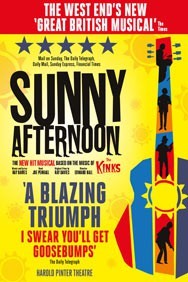 The new British musical based on the story of The Kinks and their infamous front man, Ray Davies, has confirmed the extension of the booking period at its current home, the Harold Pinter Theatre. The production is now booking until 24 October 2015.
Sunny Afternoon began life at the Hampstead Theatre in North London, and after a hugely successful sell-out run, the show transferred to the Harold Pinter theatre last year. Ed Hall, Hampstead Theatre's artistic director and son of the great theatre director Peter Hall, directs the production.
Adapted for the stage from Ray Davies's memoirs by award-winning playwright Joe Penhall, Sunny Afternoon is set in the difficult transition between the up-tight 1950's and the free-loving 1960's and depicts the meteoric rise of British rock band, The Kinks. The musical features music from The Kinks huge back-catalogue, with iconic songs such as 'Lola', Waterloo Sunset', 'You Really Got Me' and of course 'Sunny Afternoon'.
Choreographed by Adam Cooper, and with set and costume design by Miriam Buether, Sunny Afternoon is the perfect musical for anyone who wants to relive the music of their formative years, or even rediscover the music that influenced a generation.
Led by rising star John Dagleish, playing Ray Davies, the cast also includes Ned Derrington (Pete Quaife), George Maguire (Dave Davies), and Adam Sopp (Mick Avory).
Sunny Afternoon is currently booking at the Harold Pinter Theatre until 24 October 2015.