Strangers On A Train Review
by Oliver Mitford on Thursday 6 February 2014, 12:31 pm in London Theatre Reviews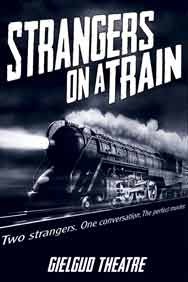 The thriller returns to the West End with a BANG! in Stranger on a Train at the Gielgud Theatre.
Once upon a time, theatrical thrillers were everywhere you looked in London's West End, but in recent years they have disappeared altogether, with only the likes of The 39 Steps to pastiche – albeit brilliantly – the suspenseful genre. However, the arrival of the stage adaptation of Stranger on a Train could mark the revival of this much-underrated form of theatre.
The show is packed until bursting with intelligent plot twists and genuinely chilling moments that will have even the most ardent of thriller fans clutching the edge of their arm-rests till their knuckles are well and truly blanched.
Adapted by Craig Warner from Patrica Highsmith's 1950 novel of the same name, Strangers on a Train also takes much from the iconic Alfred Hitchcock film version that followed the book. The basic premise of the story is that a seemingly chance meeting on a train between the cunning and assertive Charles Bruno (Jack Huston) and the milder mannered Guy Haines (Laurence Fox) leads to a complex murder-swap. Bruno will get rid of Haines's unfaithful wife and, in return, Haines will agree to bump off Bruno's despised father. Both will have solid alibis and absolutely nothing to connect them to the victim – the perfect crime. However, when Bruno fulfils his side of the sinister bargain, the horror-struck Haines suddenly finds himself caught up in a nightmare world of coercion and deceit with no way out.
Director Robert Allan Ackerman has done a sterling job of creating a hugely stylish stage version of a film noir, complete with smoky atmosphere and black and white projections that ingeniously conjure the train where the fateful meeting of the two central characters takes place. These projections by Peter Wilms continue throughout the production, fluidly taking the audience from interior to exterior locations with elegant ease, matching Ackerman's slick use of a revolving stage to keep the action moving forward and heightening the sense of disorientation that the characters on stage are experiencing.
The revolve is the unbilled star of this production, working flat-out at high speed to reveal and hide lavish locations and spectacular set-pieces. Set designer Tim Goodchild and costume designer Dona Granata have obviously collaborated very closely, as the entire colour palette of the show is contained within the black and white spectrum, as though we are witnessing a live version of an old film. There are very few moments of silence in the production as an undercurrent soundscape of tension and suspense is employed to nerve-racking effect, occasionally punctuated with bursts of period fitting Frank Sinatra with pertinent lyrics such as 'I've got you under my skin'.
Craig Warner's adaptation finds the perfect balance between quick-witted interweaving dialogue and bold visual storytelling
Craig Warner's adaptation finds the perfect balance between quick-witted interweaving dialogue and bold visual storytelling, with moments of flashback and retellings à la The Da Vinci Code that add layers of complexity and intrigue to the plot. Warner has also succeeded in fleshing out the female characters whom the book and film leave one-dimensional, such as giving more time to love-interest Anne and the incessantly possessive mother figure, played with witty charm by Imogen Stubbs. In a testosterone-fuelled play, they are a welcome antidote to the inherent hot-headed machismo.
The two lead actors in Strangers on a Train could not be more opposite in both appearance and talent. Jack Huston oozes refined charm and hidden psychotic tendencies as Charles Bruno, while Laurence Fox as Guy Haines seems limp and underpowered in comparison. The problem here is that Fox is completely out-gunned by the acting ability of Huston. Against him, there is nowhere to hide. Fox's attempt at an American accent is almost laughable and it often appears that he is just listening for his next cue rather than what the other character is saying. Opposite Huston, Fox is exposed as an actor and what we see is ultimately disappointing. Luckily for Fox, Huston is more than enough of a distraction as he colours his performance with darkly comic moments set against a real sense of danger that sucks the audience into the thrilling world of the play.
Across the West End, there is the chance to see wonderfully moving, hugely funny and high-spirited plays and musicals, but what London's theatreland has been lacking is a touch of danger and suspense. Thankfully, Stranger on a Train has sped into town with just that intention and it delivers. Book now before it's too late and, whatever you do, make sure you stay for the final coup de theatre at the end of the play, as it is really something special.
Strangers on a Train is booking at the Gielgud Theatre until 22 February 2014.