New Cast Announced for Monty Python's Spamalot at the Playhouse Theatre
by Oliver Mitford on Friday 8 November 2013, 2:30 pm in Cast Changes and Announcements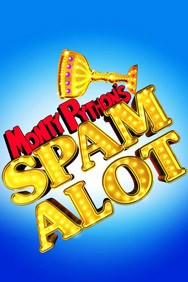 Children's television presenters Dick and Dom are to make their West End musical theatre debuts in Monty Python's Spamalot, currently playing to packed houses at the Playhouse Theatre. Dick will take the role of King Arthur and Dom will play Patsy.
Dick and Dom, whose full names are Richard McCourt and Dominic Wood, are best known for the BBC show Dick and Dom in Da Bungalow, as well as series such as Are You Smarter Than a Ten Year Old?
On the announcement of the news, McCourt said: 'I've always been a huge fan of all things Monty Python and so am very excited about the fact that I'm getting the chance to prove myself as King Arthur.' Wood added: 'I have my dad and older brothers to thank for bringing me up on Python. We watched it as much as watching kids TV, so singing "Always Look On The Bright Side Of Life" on stage will be a career highlight! It's also the first time in the West End for us, so ... "Now for something completely different".'
Joining Dick and Dom is former Hollyoaks actor Carley Stenson, who took over the role of The Lady of the Lake from the 4 November. Her credits include Elle in Legally Blonde and Princess Fiona in Shrek the Musical. In a statement to the press, Stenson said: 'I've always enjoyed performing on the West End stage and I'm very much looking forward to joining the Spamalot cast and being part of such a much loved production.'
Dick and Dom take to the stage on 2 December for six weeks only! So book your tickets now to catch the comedy duo in this hilarious musical comedy.