Skylight Review
by Phil Willmott on Tuesday 24 June 2014, 2:50 pm in London Theatre Reviews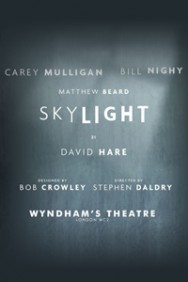 Top celebrities in top plays are the glory of the West End and you can currently catch national treasure Bill Nighy and film star Carey Mulligan (lately starring in Baz Lurman's Great Gatsby) at the beautiful Wyndham's Theatre.
"I could listen to him for hours" remarked the lady behind me of Bill Nighy at the start of the show. She and any Nighy fans are in for a treat as this play from the 1990s offers a couple of hours of everyone's favourite crumpled dad figure lolloping around the stage as Tom and firing off witty and insightful things.
The skylight of the title refers to the window overlooking Wimbledon Common from the luxury bedroom Tom has constructed for his wife to die in. She had cancer and, poor woman, the diagnosis came just as she discovered her husband's long affair with Kyra, a waitress at their restaurant (Carey Mulligan).
The play unfolds a few years after these events when Tom tracks down his former mistress to find out why she broke off contact with him. In the meantime she's got a job in a horrible East London School and has moved into a horrible West London council flat.
Their confrontation is book ended with visits to the flat from Edward, Tom's son who, in Matthew Beard's captivating performance, shares his dad's lugubrious charm.
Back in the 90s the play was presented as a critique of the quest to make money, regardless of the consequences, versus social responsibility. That's such a timeless and universal state of affairs that it's always going to be pertinent. So much so that it almost feels irrelevant. I'm pretty certain anyone who'd ever plans to see Skylight already believes we should balance the two.
For me it's the dynamic between an older man and his younger lover that's most interesting. Middle aged playwrights often feel the need to depict beautiful young people falling for witty, irascible men like themselves and this is David Hares addition to the repertoire. He also began his career writing raw and politically astute protest plays for impoverished theatre companies playing to a working class audience. By the 1990's when he wrote Skylight he was writing for star casts in the National Theatre. Hare's guilt about earning big bucks in the mainstream must surely lie behind Tom's howls of anger and bewilderment that his young lover has moved on to causes he's left behind.
Nighy, as you would expect, is mesmeric from the moment he bursts on to the stage as Tom.
Nighy, as you would expect, is mesmeric from the moment he bursts on to the stage as Tom. The part was first performed by the man-mountain Michael Gambon. You can imagine the passages explaining how Tom's employees fear him and how he can wreck an entire sofa when he throws himself at it were more appropriate to a robust actor's physique but the skinny Nighy certainly has the necessary strength of personality.
He prowls around Kyra's apartment like a hyper and malevolent stick insect switching disconcertingly between charm and aggression, wit and vulnerability. But he cannot puncture Kyra's resolve and it's very telling that she ends the play in the company of Tom's son rather than the much older man.
Kyra is a strange character. She can become impassioned but the events of the play don't seem to change her. Carey Mulligan retains a glacial determination whatever emotional hand grenades are thrown at her. The fact that her performance isn't swamped by Nighy is a considerable achievement which she often achieves through stillness contrasting with her co-star's restlessness.
It's a mark of how dynamic David Hare's dialogue is that the audience audibly gasp at some of the points thrown up by the on-stage debates. I particularly enjoyed the shock generated by Tom's announcement that listening to a woman's problems is equivalent to begging her for sex. I felt less comfortable with the assertion that it's only the same few unconfident police and teachers who get attacked at work. But it's great to provoke your audience like this and exciting to be challenged. Two things that are all too rare in mainstream commercial theatre.
In fact the only time I've experienced an audience applaud a point scored in an argument before was during another David Hare play, Racing Demon, about the Church of England.
Even though you're only ever watching two actors at a time, it never gets boring or predictable.
I think the greatest compliment you can pay Skylight is that, even though you're only ever watching two actors at a time, it never gets boring or predictable.