Rehearsals kick off for Skylight at the Wyndham's Theatre
by Oliver Mitford on Wednesday 7 May 2014, 7:12 pm in West End News & Gossip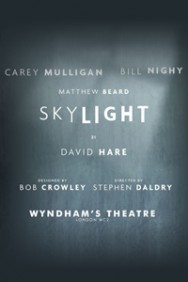 Rehearsals for Stephen Daldry's production of David Hare's Skylight began in London yesterday. The major West End revival of Hare's Olivier award-winning play stars Carey Mulligan as Kyra Hollis, Matthew Beard as Edward Sergeant and Bill Nighy as Tom Sergeant.
Skylight tells the dramatic story of a schoolteacher named Kyra Hollis (Carey Mulligan), who receives an unexpected visit from a former lover on a bitterly cold London evening. This lover is Tom Sergeant, a successful and charismatic restaurateur whose wife recently passed away. As the evening progresses, the two attempt to rekindle their once passionate relationship only to find themselves locked in a dangerous battle of opposing ideologies and mutual desires.
Skylight was first performed at the Royal National Theatre in 1995 and that year was the recipient of the Olivier Award for Best New Play. The production transferred to the Wyndham's Theatre in the West End and then onto Broadway. The production was then revived in the West End at the Vaudeville Theatre in June 1997.
This new production directed by Stephen Daldry is designed by long-time collaborator Bob Crowley, with lighting design by Natasha Katz, sound design by Paul Arditti and music by Paul Englishby.
Skylight opens at the Wyndham's Theatre on 18 June 2014, with previews from 6 June and is booking to 23 August 2014. With actors of Mulligan and Nighy's caliber, it is sure to be the hottest ticket this summer!