Leading stars announced for Shakespeare in Love
by Oliver Mitford on Tuesday 18 February 2014, 8:12 pm in Cast Changes and Announcements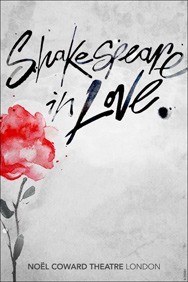 It has been announced that Tom Bateman and Lucy Briggs-Owen will be stepping into the lead roles of Will and Viola for the upcoming West End play version of Shakespeare in Love. The pair will be following in the footsteps of Joseph Fiennes and Gwyneth Paltrow who originated the parts in the Oscar-winning film directed by John Madden and written by Tom Stoppard and Marc Norman.
Tom Bateman will play the bard William Shakespeare. Bateman's theatre credits include The Duchess of Malfi opposite Eve Best at The Old Vic Theatre and Much Ado About Nothing opposite David Tennant and Catherine Tate at Wyndham's Theatre.
Lucy Briggs-Owen will play Viola De Lesseps. Her stage credits include several productions for the Royal Shakespeare Company as well as Michael Frayn's Noises Off in the West End and Fortune's Fool at The Old Vic, having just recently closed.
Adapted from Tom Stoppard and Marc Norman's screenplay by Billy Elliot writer Lee Hall, Shakespeare In Love tells the story of Will Shakespeare as he suffers writer's block while working on his new play Romeo and Juliet, but finds his muse in the actor cast to play Romeo, who turns out to be a woman by the name of Viola. These two star-crossed lovers must fight for their love or be doomed to end up like the tragic characters of his plays. The production is due to open at the Noel Coward Theatre in July 2014 and is directed by Cheek by Jowl's artistic director Declan Donellan, his long-term partner come collaborator Nick Ormerod will design, with Jane Gibson as movement director.