The Pajama Game Review
by Phil Willmott on Friday 23 May 2014, 9:18 am in London Theatre Reviews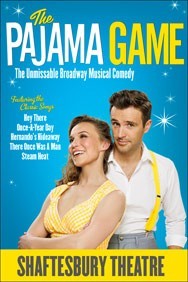 Yay, it feels like summer is finally here! The perfect time to welcome one of the sunniest, funniest and most romantic Broadway musicals ever written, back to the West End.
This revival of this 1950's classic directed by Richard Eyre was much admired when it premièred in Chichester last season and it's expanded beautifully to fill the large stage at the Shaftesbury Theatre giving Stephen Mear's fearsome choreography all the space it needs to dazzle.
Don't let the dingy first scene fool you. Ok, it's all set in a small town Pyjama Factory and centres around a strike over pay but that's just the background against which musical comedy maestros Georg Abbott and Richard Bissell (script) and Richard Adler and Jerry Ross (songs) weave a terrific love story and introduce some of the most appealing Broadway characters since Guys and Dolls.
You're lucky if you get one song of this standard per musical, the fact that this show contains all 5 is extraordinary.
Peter Polycarpou, who's about to star as Nathan Detroit in this summer's Chichester revival of G&D appropriately kicks things off playing Heinz, a time and motion expert employed to ensure the Sleep Tite Pajama Factory runs at full capacity. He's also dating leggy blonde secretary, Gladys (played by the gorgeous Alexis Owen-Hobbs) and used to have a knife throwing act so it's unfortunate that he's the jealous type!
Tall, dark and handsome Michael Xavier plays the new factory superintendent, Sid, determined to make a fresh start in a new town. One of the West End's favourite leading ladies Joanna Riding stars as Babe, the head of the Union's grievance committee, and it's not long before our hero and heroine have the hots for each other.
However, they also find themselves on opposite sides of an industrial dispute. Fortunately, in true musical comedy style a misunderstanding over a kiss and a key in a dark night club straightens things out.
But if the story is slight there's ample compensation to be had in some glorious comic set pieces like the annual works outing, the gossipy office manager (endearingly played by Claire Machin) and the apoplectic boss trying to convince everyone he can't afford to give them a pay rise. Colin Stinton turns this role into a slapstick star turn and impressively also convinces as Babe's elderly father.
Riding and Xavier have a string of wonderful songs with which to fall in and out of love. He croons A New Town is a Blue Town, she vigorously denies any attraction in I'm Not at All in Love, he pulls himself together in Hey There (dueting with his Dictaphone!) they flirt in the number Small Talk (which has been going round and round in my head all day) and finally both get to sing a full throttle rockabilly declaration of love, the glorious There Once was a Man.
You're lucky if you get one song of this standard per musical, the fact that this show contains all 5 is extraordinary. If that weren't enough you also get the classic dance numbers Steam Heat and Hernando's Hideaway brought to fresh, high-energy life by Steven Mear's choreography and the wonderful dancers.
My favourite scene is the annual works outing in which the smouldering passions of the workplace blossom when everybody has a day in the park. It opens with the employees singing the company theme tune Sleep-Tite in delicious harmony before finally letting their hair down and letting rip in the gloriously catchy Once-a-year-day. It's one of those numbers that you only have to hear once and it lodges in your memory for life. It perfectly encapsulates the fun and naughtiness of a bunch of sexually charged workers enjoying time off from the daily grind and away from their spouses. It also provides one of the show's few opportunities for a splash of colour as the cheerless brick walls of the factory give way to a summer day in the park.
Hernando's Hideaway is another famous sequence in which, incongruously and whilst on a break from their usual partners, leading man Sid and leggy secretary Gladys go on a date at a colourful Latin themed night club. The rhythms really sizzle and the regular blackouts allow our friends to get up to all sorts of mischief.
It's one of those numbers that you only have to hear once and it lodges in your memory for life.
It's the pyjamas themselves that provide the colour in the finale in which everyone models the latest nightwear fashions which prove to be both chic and sexy.
Who know how the British summer will turn out but whatever the weather outside you're guaranteed a perfect summer evening at the Shaftsbury Theatre.