SHERIDAN SMITH to star in OPENING NIGHT - A New Musical
by Best of Theatre Staff on Friday 10 November 2023, 9:39 am in Upcoming and New Shows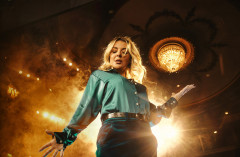 Based on John Cassavetes' legendary film, OPENING NIGHT follows a theatre company's preparations to stage a major new play on Broadway. But drama ignites behind the scenes when their leading lady is rocked by tragedy, and her personal turmoil forces everybody to deliver the performance of their lives.
Sheridan Smith said today "The chance to work with the musical genius that is Rufus Wainwright and one of the world's greatest stage directors Ivo van Hove was a once in a life time opportunity, and quite frankly if they'd asked me to read out the back of a cereal packet I'd have been there! But, I couldn't be more thrilled to be cast in this fantastic original musical and to play the complex and challenging character of Myrtle".
Ivo van Hove said today "After the success of A Little Life I am thrilled to return to the West End together with Wessex Grove to create a new musical. It is a dream come true to collaborate with the wonderful Rufus Wainwright, whose work I have been a fan of for so many years. We connected over our shared love of the incredible John Casavettes film Opening Night and it has long been an ambition of ours to bring a musical version to the stage. Opening Night not only gives us an insight into the trials and tribulations behind the scenes of the theatre, but it is also the heartbreaking story of a woman fighting for hope and self-determination in a world that doesn't want to listen".
Rufus Wainwright said today, "For me John Cassavetes's movie Opening Night has long been a shining beacon representing both excellence in cinema and the might of live theatre. An intense marriage of film and stage it is about a very personal mental and creative survival that I think we can all relate to on a very deep human level. I've been waiting for ages to write my first musical and with this fantastic story plus the incomparable Sheridan Smith, not to mention the incredible Ivo van Hove, I don't think I could have aimed any higher".
Producers Benjamin Lowy and Emily Vaughan-Barratt said today, "Deep in the early lockdowns of 2020, just after forming our company, we zoomed with Ivo and Rufus about turning Opening Night into a musical. It was a thrilling idea they had, and that conversation turned into the first commission Wessex Grove made. Rufus has written the most extraordinary original music and it is a joy for us to be reuniting with Ivo after the success of A Little Life earlier this year. Opening Night is a show about making theatre in all its forms; the heartbreaks, the turmoil, and the pure joy of it. We couldn't be luckier to have one of our great theatrical stars, Sheridan Smith, leading the cast of this new musical".
OPENING NIGHT has a Book by Ivo van Hove with Music and Lyrics by Rufus Wainwright. It is Directed and conceived by Ivo van Hove, has Set, Lighting and Video Design by Jan Versweyveld, Costume Design by An D'Huys and Sound Design by Tom Gibbons and Alex Twiselton. Orchestrations are by Rufus Wainwright, with Musical Supervision and Musical Direction by Nigel Lilley. Movement and Choreography is by Polly Bennett, Casting by Julia Horan CDG and the Associate Director is Daniel Raggett.