Not Just ONCE but twice
by Oliver Mitford on Thursday 2 May 2013, 9:46 pm in London Theatre Reviews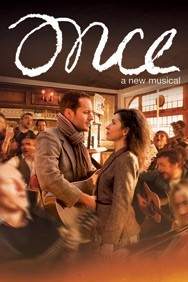 After its huge success on Broadway, Once had West End audiences drooling with anticipation for the long-awaited London production. The praise from audiences and critics alike drifted across The Pond and only served to fuel the hype here in the UK, but the big question was – will it live up to it? Well, the votes are in and it's a big unanimous YES.
The romantic and tender tale of an Irish busker and a young Czech mother who meet through a shared love of music has well and truly swept audiences off their feet. This celebration of love, friendship and music is masterfully brought to life by the creative talents of director John Tiffany and writer Enda Walsh, whose sensitive adaptation of the much-loved film has audiences dabbing away tears night after night.
John Tiffany was thrown into the spotlight with his much-lauded 2006 production of Black Watch for The National Theatre of Scotland, collaborating with choreographer and physical theatre maverick Steven Hoggett. This pairing obviously proved a success, as Tiffany brought Hogget onboard for Once and it's safe to say their combined efforts create theatrical magic in bucket-loads!
Book now and catch Declan Bennett and Zrinka Cvitešic lead an astoundingly talented ensemble cast of actor/singer/musicians and be transported by this dreamy fable at The Phoenix Theatre, London.