Goodnight Mr Tom to return to the West End
by Oliver Mitford on Tuesday 10 November 2015, 9:25 pm in Upcoming and New Shows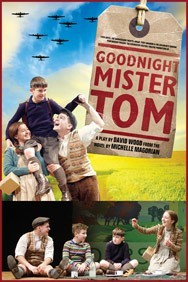 The award-winning Chichester Festival Theatre production of Goodnight Mister Tom has announced its return to the West End.
Directed by Angus Jackson, Goodnight Mr Tom will open at the Duke of York's Theatre on the 11 December 2015.
Adapted by David Wood from the best-selling 1981 novel by Michelle Magorian, the play was last seen in London back in 2012, where it played a sell-out run at the Phoenix Theatre.
Set at the outbreak of the Second World War, Goodnight Mister Tom tells the heart-warming story of a young evacuee called William Beech who finds himself in the care of a grumpy older man named Mr Tom. However, this elderly recluse is not as cold-hearted as he first appears.
David Troughton will play the central role of Mr Tom, he is joined by an ensemble cast comprised of Guy Lewis, Simon Markey, Abigail Matthews, Hollie Taylor, Clark Devlin, Elisa de Grey, James Staddon, Melle Stewart, Jane Milligan, Georgina Sutton and Martha Seignior.
After opening on the 11 December 2015, Goodnight Mr Tom will run in the West End until 20 February 2016. The production will then embark on a UK tour starting in Manchester, then followed by Milton Keynes, Glasgow, Birmingham, Oxford, York, Richmond, Aylesbury, Woking, Bath, Cambridge, Cardiff and finally ending in Newcastle.
Tickets are now on sale for Goodnight Mr Tom at the Duke of York's Theatre.